Vera Lee Farthing
Wood River | Friday, June 27 2014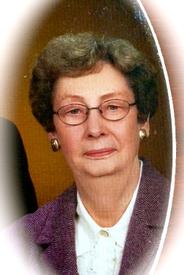 Vera Lee Farthing, 93, passed away 10 p.m. Friday, June 27, 2014 at Eunice smith Nursing Home in Alton.
Born on April 14, 1921 in wood River, she was the daughter of Frederic Condon and Ida Francis (Smith) Grenzebach.
Vera Lee attended St. Bernard Catholic School and East Alton-Wood River High School, where upon graduation, she attended Brown Secretarial School in St. Louis.
She married her childhood sweetheart, Kenneth Donald Stoeklin in 1944. The couple had two children, Fred and Barbara. In 1968, Kenneth passed away. She married William Farthing in 1972, were married 40 years until his death in April of 2013.
Throughout her professional career, Vera Lee utilized her secretarial skills in many different capacities. she concluded her professional career in 1984, when she retired from Wood River Township Hospital, where she had worked in a variety of positions, ending as the Administrative Assistant for the Hospital's Administrator.
Vera Lee is survived by her son, Fred Stoeklin of Casper, WY; daughter, Barbara Gillian of Godfrey; four grandchildren, Kenneth Stoeklin of Wyoming, Travis Stoeklin of Oregon, Nedina Gillian-Teall of San Diego, CA, Keelan Gillian of Wood River; and two great grandchildren, Mason Stoeklin of Wyoming and Soren Stoeklin of Washington.
The family expresses a thank you to the administration and Staff of Eunice Smith Home for their tender care and respectful attention, allowing her to live her final years with dignity.
In accordance with her wishes, her body was cremated.
A memorial service will be held at a later date in her honor, with private burial in Woodland Hill Cemetery in East Alton.
Memorials may be made to the Alzheimers Disease Foundation.
Marks Mortuary in Wood River is in charge of arrangements.