Richard Aubrey Crandall
Godfrey | Friday, August 29 2014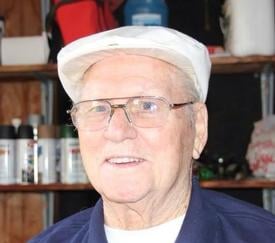 Richard Aubrey Crandall, 88, died at 1:40 a.m. on Friday, August 29, 2014 at Alton Memorial Hospital. He was born February 12, 1926 in Wood River, IL the son of the late Raymond Gardner and Hester (Huitt) Crandall. He served in the Marines during WWII and he retired as a machinist from Owens Illinois. He was the former owner of the Bethalto airport restaurant. He was a member of the Alton Eagles FOE #254, Bethalto Masonic Lodge, and the VFW Post 1308 in Alton. He loved fishing and hunting. In April of 2012 he went on the Honor flight with WWII vets to Washington, DC. He married Veronica Crestwood in Wood River, IL and she preceded him in death on November 11, 1988. On January 21, 1992 in Edwardsville he married Roberta Pitman-Bristow and she survives.
Also surviving are five children; Ron Bristow (Paty) of Eureka, MO, Melinda Grabbe (Henry) of Godfrey, Charlotte Yinger (Tim) of Godfrey, Melvin Bristow (Monica) of Godfrey and Terry Bristow (Kathy) of Alton, 19 grandchildren, 25 great grandchildren, one brother; Robert Crandall (Anice) of Virginia, two sisters; Phyllis Hedger (Bud) of Roxana, and Dorothy Schuler (Donald) of Rosewood Heights and numerous nieces and nephews.
He was preceded in death by one great grandson and one daughter-in-law; Laura Bristow.
Visitation will be from 4:00-7:00 p.m. on Tuesday, September 2, 2014 at Gent Funeral Home in Alton where funeral services will be at 7:00 p.m. Pastor Paul Guerin to officiate. Burial will be private.
Memorials may be made to the American Diabetes Association or the Kidney Foundation.
Additional information and online guest book may be found at www.gentfuneralhome.com