Christine H. "Chris" Johnson
Alton | Saturday, April 5 2014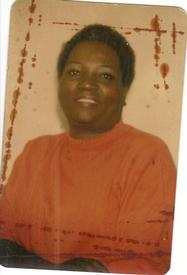 Christine H. "Chris" Johnson, 75 departed this world Saturday, April 5, 2014 at her home.
Christine was born April 30, 1938 in Earle, Arkansas to the late Polly Williams. She resided in Alton for many years before moving to Rochester, New York. Before retiring, she was a certified nurse's assistant. Christine returned to Alton after retiring to be with family and friends.
Left to cherish fond memories: 4 children, Theresa (Johnson)Collins, Curtis Johnson, Clarence(C.J.)Johnson all of Alton, and Pollyanna (Liz)Johnson of Rochester, New York; a sister, Liz Mabrey of Rochester, New York; and a host of grandchildren, nieces, nephews, cousins, and friends.
Visitation will convene Friday, April 11, 2014 from 9 until time of service at 10:00 a.m. at Calvary Baptist Church. Interment will follow at Upper Alton Cemetery. Guest signatures and condolences may be registered at www.harrisonfuneralchapel.com