Zona Stegall
South Roxana | Monday, July 4 2022 |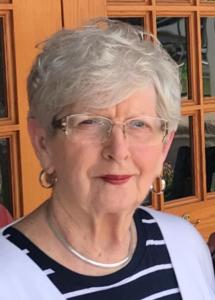 Zona Faye Stegall, 83 of South Roxana, passed away at 8:35 a.m. Monday, July 4, 2022, in Lebanon, TN with family by her side.
Faye was born December 21, 1938, in Sesser, IL. She was the daughter of the late Alvin Edward and LeVerne (Taylor) Hannis Boswell.
In 1952, her family moved from Sesser to Granite City and then to South Roxana. After graduating from Roxana High in 1957, Faye worked as a secretary at Owens-Illinois Glass in Alton.
Faye married Doyle Lee Stegall on April 18, 1959, in South Roxana. Doyle passed away on July 8, 2020. They were blessed with 61 years of marriage.
When they started their family, Faye quit at Owens and when their children were older, she worked as a secretary for Major Construction/Trucking in South Roxana, church secretary at Bethel Free Will Baptist Church, and Bethel Christian Academy in South Roxana for several years. She later worked as head secretary at Lewis and Clark Jr. High School in Wood River, where she not only kept books and teachers straight but also ministered to myriad students, teachers, and parents with a friendly face and good advice. After many years in the workforce, Faye retired on December 31, 1999.
As a young child, Faye accepted Jesus as her Savior. Faye & Doyle were members of Bethel Free Will Baptist Church in South Roxana which she had attended since the church began.
Faye had a ministry in her neighborhood as a person who always had something cooking on the stove. She fed many neighbors who showed up in the Stegall yard for help repairing a car or bicycle from Doyle and a hearty meal from Faye.
Faye leaves behind two children and their spouses—Kim (Stegall) and Steve Colbert of Lebanon, TN; Jeff and Kim Stegall of Greenville, SC; two grandchildren—Margaret Ann Stegall and Hamilton Cole Stegall of Greenville, SC; one sister, Janice Gray of Wood River, IL; one sister-in-law, Gladys Hannis of Wanda, IL; brother-in-law Horace and Marilyn Stegall of Granite City; extended family Doug & Connie Guss and family; many nieces, nephews, great, great-great and great-great-great.
Besides Doyle and her parents, Faye was preceded in death by two brothers, Royall Hannis, and Rodney Hannis; one Sister, Jean Montgomery and her husband Jr.; brother-in-law, Glen Gray; sister-in-law, Joyce Malson; brother-in-law Dale Stegall and his wife Shirley.
A life celebration for Faye will begin at 10:00 a.m. until 11:00 a.m. at service time, Saturday, July 9, 2022, at Gray Funeral Home in Wood River. Rev. Stephen Gray will officiate.
Burial will be at Wanda Cemetery in South Roxana.
The family asks that any donations be given to Upstate American Heart Association 887 Johnnie Dodds Blvd, Ste 110, Mt. Pleasant, SC 29464.
Obit Provided By:
Gray Funeral Home