William Finkes
Dow | Friday, July 29 2022 |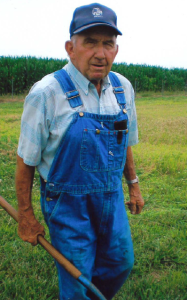 William L. Finkes, Sr., 88, passed away on July 29, 2022, at his home surrounded by family.
He was born October 27, 1933, to Lawrence F. & Mary T. (Trager) Finkes in Elsah Township. Bill married Julia (Julie) Fessler on October 17, 1955, in Anchorage, Alaska, where he was stationed with the U.S. Army as a Private 1st Class PFC, and together they enjoyed 66 years of marriage. He was a lifelong farmer in Jersey County and worked at Jersey County Rural Water. He was a member of St. Michael's Catholic Church, St. Ambrose Catholic Church, Tri-County Antique Club, Knights of Columbus in Jerseyville, a 4H Leader, and a bowler. Additionally, he was a Board Member of Jersey County Rural Water, FS, and Jersey County Grain. Bill held a deep love for his family, his farm, and his faith. He was a jokester and enjoyed pulling simple, but funny pranks on his children and grandchildren. He always enjoyed a big bowl of ice cream, scratch-off lottery tickets, and going "fishing" at the Alton Belle Casino on rainy days.
Bill is survived by his loving and devoted wife, Julia Finkes; his children: William L. (Sue) Finkes, Jr., Susan (Donnie) Buchanan, Patty "Treedie" Kallal; David (Carla) Finkes, and Rita (Kevin) Robertson; his grandchildren, Sara, Kyle, Nathan, Craig, Danielle, Ethan, Philip, Luke, Katie, Paul, Jane, Jacob, Max, Caroline, Emily, Josh, and Sarah; his 40 great-grandchildren with another great-grandchild due in December, and one great-great-grandchild; his sister-in-law, Karen Fessler; brother-in-law, Clarence Boucher; and his godchildren, Elizabeth Davis, Ronny Boucher, and Amy Croxford.
He was preceded in death by his parents; daughter, Theresa Diane Finkes; son-in-law, Michael "Popeye" Kallal; great-grandson, Zach Hunter; siblings, Lawrence "Sonny" Finkes Jr.; John Finkes; Mary "Sis" Boucher; brother-in-laws Paul Fessler and Joe Boucher as well as sister-in-laws Alvina Boucher, Dorothy Fowler and Betty Finkes.
A visitation will be held on Monday, August 1, 2022, from 4-8 pm at Alexander Funeral Home in Jerseyville. A Mass of Christian burial will be held on Tuesday, August 2, 2022, at 10 am, at St. Michael's Catholic Church in Beltrees. Graveside military rites will be conducted by American Legion Post #492. Burial will take place at St. Michael's Catholic Cemetery in Beltrees. In lieu of flowers, memorials may be made to the Theresa Diane Finkes Nursing Scholarship, St. Jude's Children's Hospital, or to the QEM Fire Protection District.
ALEXANDER FUNERAL HOME IN CHARGE OF ARRANGEMENTS
Obit Provided By:
Alexander Funeral Home