William "Bill" Albert Gettings, Jr.
Fieldon | Tuesday, July 27 2021 |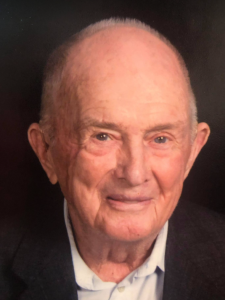 William (Bill) Albert Gettings, Jr. passed on Tuesday, July 27, 2021. He was born near Fieldon on November 14, 1927 and lived his entire life in the Fieldon/East Hardin area. The son of the late William Sr. and Hazel Gettings, he is survived by five children, eight grandchildren and 10 great-grandchildren. The children are Janet (Stan) Stevens of Northfield, MN, Carol (Larry) Moore of Medora, Ginger (Joe) Claflin of Godfrey, Brett (Michele) of Fieldon and Eric of Jerseyville. He leaves a sister, Marguerite Sinclair, and two brothers, Jacob and Dale. Bill was preceded in death by his wife, Doris June, and a brother, Lee.
Bill grew up on a farm near Fieldon and was confirmed into the Fieldon United Church of Christ where he was an active member all his life, last attending the Sunday before he passed. He graduated from Hardin HS and was a grain and livestock farmer for 70 years. Bill served on the Jersey County Grain Board of Directors for 42 years, 30 years as a Commissioner for the Spanky Levee and Drainage District and 20 years on the Nutwood Levee and Drainage District Board. In 1949 Bill became a Mason. He was an active member of seven lodges: Fieldon, Calhoun, Hamburg, Grafton, Jerseyville, Shipman and Carrollton. Bill conducted Masonic Funeral Services in Western Illinois for 50 years. He was also a Shriner and ferried many families to and from the Shriners Hospitals for Children in St. Louis.
Doris June and Bill enjoyed travelling, visiting every state in the US and all Canadian Provinces plus many trips to Europe. He had a true zest for life. Bill was generous with his time,talents and money and is fondly remembered by his children, their friends and his grandchildren for his "lectures" and his verbal sparring!
A visitation will be held on Friday, August 6, 2021 from 9:00 am – 11:00 am at the Fieldon United Church of Christ. A Masonic service will be held by Fieldon Masonic Lodge #592 on Friday, August 6, 2021 at 11:00 am at the Fieldon United Church of Christ with a funeral service following after. In lieu of flowers, memorials may be made to the Fieldon United Church of Christ or to Shriners Hospital for Children.
ALEXANDER FUNERAL HOME IN CHARGE OF ARRANGEMENTS
Obit Provided By:
Alexander Funeral Home