Terry Martin
Hamel | Tuesday, July 25 2023 |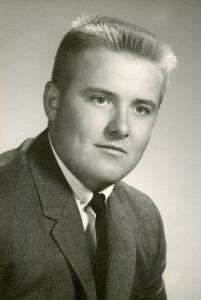 Terry D. Martin, age 82 of Hamel, IL, died Tuesday, July 25, 2023, at Alhambra, IL.
He was born on Saturday, July 19, 1941, in Hamel, IL, the son of David and Cleo (nee Pape) Martin.
He was a former member of United Steelworkers Local 1899-Granite City, IL.
Terry was born and raised at Hamel, IL and graduated from Edwardsville High School in 1959. He began working a Granite City Steel in 1961 and retired in 2004. His first passion was golf. He golfed in numerous tournaments nation wide. Many newspaper articles were published on his golfing accomplishments. He leaves behind many friends.
Survivors include:
Daughter - Dana L. Martin, Bunker Hill, IL
Sister - Idel M. (Kenneth) McCullough, Saint Peters, MO
Niece - Tracy L. (Floyd) Porter, O Fallon, MO
Niece - Toni R. (Lonnie) O'Dell, O Fallon, MO
Great Nieces & Great Nephew
Great Great Nieces & Great Great Nephew.
He was preceded in death by:
Father - David Ferdinand Martin - Died 8/17/1976
Mother - Cleo Elina Martin (nee Pape) - Died 10/11/2001
Nephew - Todd Yeargain - Died January 2011.
Arrangements are being handled by Dauderman Mortuary in Hamel, IL.
No Memorial Service to be scheduled.
Obit Provided By:
Dauderman Mortuary - Hamel