Teenie Wieneke
Wood River | Saturday, August 13 2022 |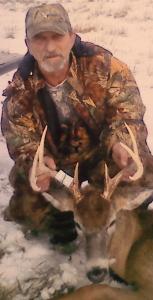 Teenie Lee Wieneke, 70, passed away at 3:42 p.m., Saturday, August 13, 2022, at his residence.
He was born on January 15, 1952, in Wood River, Illinois, and was the son of the late Otto Edward and Ruby Mae (Schmidt) Wieneke Sr.
Teenie attended Civic Memorial High School in Bethalto, Jersey Community High School in Jerseyville, and graduated from Nurenberg High School in Germany.
He served our country honorably with the United States Army from 1970 – 1973 and was a proud Vietnam War Veteran.
He married the former Barbara Kay Hanks on June 13, 1996, in Jerseyville, and together they have been blessed with 26 years of marriage.
A hard-working man, Teenie was employed with Cope Plastics for many years and in his spare time, enjoyed spending time outdoors hunting and the company of his friends and family.
Surviving are his wife, Barbara Wieneke of Fieldon; five children, Tina (Robert) Madson of Fieldon, Tammy Adair of Fieldon; Samantha (Chad) Wittman of Grafton, Ryan Becker of Hardin, and Jason (Thara) Becker of Ormand Beach, Florida; fourteen grandchildren; 6 great-grandchildren; as well as a sister, Patricia Winchell of Fieldon.
In addition to his parents, he was preceded in death by a grandson, Markus Lee Wieneke; a brother and sister-in-law, Otto and Brenda Wieneke Jr.; as well as a sister, Rayola Brumberlow.
Graveside services will be conducted at 1:30 p.m., Saturday, September 10, 2022, at Fieldon Cemetery in Fieldon, Illinois. A Celebration of Life and dinner will follow at Pour House in Fieldon.
Crawford Funeral Home in Jerseyville is assisting the family with arrangements.
Memories may be shared with the family by visiting www.crawfordfunerals.com
Obit Provided By:
Crawford Funeral Home