Shirley née Moffett Novitskie
Alton | Tuesday, August 18 2015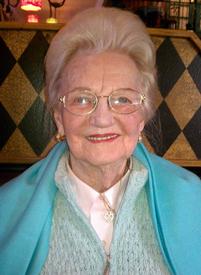 Creve Coeur, MO
Shirley née Moffett Novitskie 93, died at 8:20 AM Tuesday, August 18, 2015 at The Hallmark of Creve Coeur in St. Louis.
Born November 8, 1921 in Potsdam, New York, she was the daughter of the late William and Grace (Fairbanks) Moffett.
She married Francis "Novie" Novitskie on June 28, 1945 at St. Ann's Church in Nyack, New York. Her beloved Novie preceded her in death on April 26, 2005.
A 1939 graduate of Potsdam High School, she then graduated with a Bachelor of Arts degree in education from The State University of New York at Potsdam. Shirley later continued her studies receiving a Masters Degree in Education and Guidance Counseling (Phi Beta Kappa) and further earned a Specialist Degree from Southern Illinois University, Edwardsville.
Shirley was a forward thinking, progressive lady. She had a voracious appetite for books, music, ideas and bridge. She highly valued love of family, education and volunteerism. She was a member of the Alton Women's Service league, the American Cancer Society, St. Anthony's Auxiliary and served on the board of the Alton YWCA.
In addition to her loving husband of 59 years, Shirley is survived by three daughters and sons-in-law, Kathryn and J. Michael Pool of Lakewood Ranch, Florida, Phyllis and Dr. Thomas Yue of St. Paul, Minnesota and Carol and Captain Steve Lanard of Leawood, Kansas. Shirley had four older brothers, James, Howard, Noel and Lyle of New York State all who proceded her in death. Shirley is survived by five granddaughters and three great granddaughters. We will miss our Mama, Grandma and Mimi so very much.
Visitation will be from 5 to 7 pm Thursday, August 20, 2015 at Staten Fine Funeral Home in Alton.
Funeral and interment will be held at 10:00 am on Friday, August 21, 2015 at Valhalla Memorial Park in Godfrey.
An online tribute and guest book may also be found at www.staten-fine.com. In lieu of flowers, please consider giving to The Children's Hospital of Philadelphia (CHOP) The Caroline Miller Endowed Fund for Nursing Education http://chop.donordrive.com/campaign/caroline-miller
Obit Provided By:
Staten, Fine & Burke Funeral Home