Sharon Loraine (Foval) Clark
Grafton | Friday, May 14 2010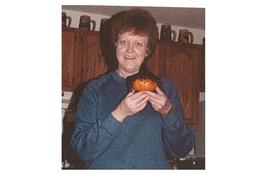 70-year-old Sharon Loraine (Foval) Clark of Grafton died at 12:45 p.m., Thursday, May 14, 2010 at her residence.
Born Aug. 5, 1939 in Jerseyville, she was the daughter of the late Charles J. & Lora Mae (Martin) Foval.
A long time resident of Grafton, she had worked at numerous locations, including the Owens-Illinois Glass Works, Olin Corp., and retired as a clerk from Roentz's Market in Grafton.
She was a loving mother, sister, aunt, grandmother, great grandmother, companion and friend. She will be greatly missed by all who knew her.
Surviving are a son & daughter in law, Jimmy L. & Lonna Clark of Alton, and Sherry S. & Rodger Holden of Slidell, La.; six grandchildren, Chris Holden, and Melissa Inman both of Grafton, Dustin Greer of St. Louis, Travis Clark of Brighton, Melissa Kuehnel and Tara Clark both of Alton; six great grandchildren, Ryan, Jozie, Morgan, Gregory, Colton and Damien; a special niece and nephew, Mary Foval Jones and Michael J. Foval both of Grafton; and a dear friend, Debbie (Shulte) Hotz of Jerseyville, as well as her former husband and father of her two children, Jim Clark Sr.
She was preceded in death by her companion of 22 years, Marlin "Dick" Irwin on Feb. 16, 2009; a brother & sister in law, Charles "Jerome" and Theresa (Keller) Foval; and two sisters, Jean Housel & Phyllis Cassidy.
Visitation will be from 4 to 8 p.m. Monday at Crawford Funeral Home in Jerseyville, where funeral services will be conducted at 10 a.m. Tuesday. Rev. Sonny Renken will officiate.
Burial will be in the Hartford Cemetery near Pere Marquette State Park in Grafton.
In lieu of flowers, Sharon requested that memorials be given to the Hartford Cemetery or to the Riverbend Humane Society in Jerseyville.
Obit Provided By:
Crawford Funeral Home