Ronald Hansen
Carrollton | Tuesday, January 11 2022 |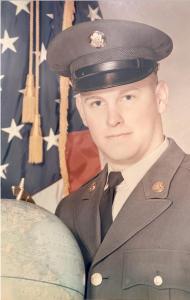 Ronald "Ronnie" William Hansen, 71, died peacefully at home on Tuesday, January 11, 2022.
He was born in Alton, Illinois on December 4, 1950, the eldest of six children born to William Frederick and Rosalie (Goetten) Hansen.
Ron grew up in Jerseyville and graduated with the Class of 1968 from Jersey Community High School. Following graduation, he enlisted with the United States Army and served as a member of the Army Reserves. During his tenure in the Reserves, he was trained as a Turret Artillery Repairman and received commendations as a Sharpshooter. While serving is the Reserves, he worked for the family business, Hansen Packing. Upon his father's retirement in 1985, he became president of the company. Ron retired from Hansen Packing in 2004 and created Tri-County Cattle Company, which he operated until 2021.
He married the former Marsha Meredith of Jerseyville and with their union, they were blessed with three daughters.
Ron is survived by his mother, Rosalie "Sissi" Hansen of Jerseyville; three daughters and sons-in-law, Melissa and Charles Schmadeke of Springfield, Dawn and Brian Ricklefs of Jerseyville and Wendy and Matt Vahle of Oxford, Mississippi; six wonderful grandchildren, Rose, William, Holly, Kendal, Karter, and Lucy Anne; three brothers and their spouses, David and Paula of Jerseyville, Mike "Roundman" and Joann Hansen of Las Vegas, and James Hansen of Springfield; as well as a sister and brother-in-law, Mary and Paul Bartlett of Brighton.
He was preceded in death by his father, William "Bill" Hansen; a brother, Kevin "Crackers" Hansen; as well as his grandparents, Henry and Margaret Goetten and Joseph and Ruby Hansen.
Private services were held at Crawford Funeral Home in Jerseyville. Gifts of remembrance may be directed to the American Legion Post 492 Scholarship Fund and Protecting Animal Welfare Society "PAWS" of Jacksonville.
Memories may be shared with the family by visiting www.crawfordfunerals.com
Obit Provided By:
Crawford Funeral Home