Rodger Kuhn
Golden Eagle | Wednesday, June 1 2022 |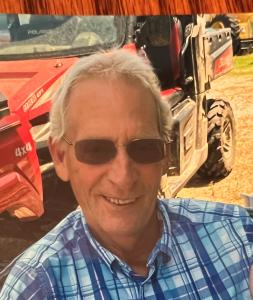 Rodger Emil Kuhn died June 1st, 2022 at Calhoun Nursing Center with his family by his side. Emil was born December 14, 1953, in St. Louis, MO to George and Mary (Teague) Kuhn.
He married his best friend and the love of his life, Cindy (Kirn) Kuhn, on May 25, 1985, and she survives. They have one daughter, Ashley (Cody) Affholder, and a grandson, Cohen.
Emil lived most of his life in Golden Eagle, IL. He was a career electrician and worked many years as Maintenance Manager for Dynegy Electric in Wood River, IL.
Emil's favorite past times were fishing, playing cards, and being with his friends, but what he loved more than anything was hanging out with his best buddy, his grandson Cohen. He was known as the best fish and chicken fryer ever. He had the ability to fix everything that others couldn't (or wouldn't). He was an excellent cook and made the best vacation breakfasts of anyone.
Emil is survived by six brothers and sisters, Cindy (Albert) Jenkins, Fred (Debbie) Kuhn, Gretchen (Mike) Stoltz, Charlie Kuhn, Florence (Greg) Rose, and Paul Kuhn, and three step-sisters, Sandi (Kenny) Odelehr, Vickie Nation, and Melinda Pohlman, and many nieces, nephews, and brothers- and sisters-in-law.
Visitation will be held Sunday, June 5th, from 4:00 PM to 8:00 PM, at St. Matthews Lutheran Church in Brussels, IL.
Funeral services will be held Monday, June 6th, at 10:00 AM, at St. Matthews Lutheran Church.
Burial services will take place at Crisswell Cemetery in Golden Eagle, IL.
A luncheon for family and friends will follow at the American Legion Hall in Brussels, IL.
Memorials are suggested to the St. Mary's School, Crisswell Cemetery, or Brussels Ambulance Service.
Obit Provided By:
Elias, Kallal & Schaaf Funeral Home