Robert Gooch
Edwardsville | Saturday, April 29 2023 |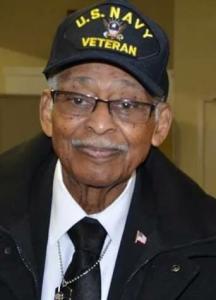 Robert (Bob) Gooch, 92, of Edwardsville, IL, passed away on Saturday, April 29, 2023 at John Muir Hospital in Walnut Creek, CA. He was born January 12, 1931 in Princeton, IN to Harry Gooch Sr. and Mildred Mae (Roundtree) Gooch. He attended Lyle's Station school in Princeton as a child. Bob married Donna Wright on November 23, 1955 in Washington, IN. Bob served in the Air Force from 1951-1955 then served in the Navy from 1959-1978. He retired from military service and moved his family to Edwardsville, IL in 1978 were he kept his residence until he passed away. Bob retired from Clark Oil refinery in Roxana, IL after several years of service. He was a beloved member of the Mt. Joy Baptist Church in Edwardsville.
Bob was survived by two of his children, Debra (Gooch) Jackson of Edwardsville, IL. and Roberta (Gooch) Thomas (spouse Eric) of Concord, CA; grandchildren, Rodney, Robert, Jerry, and Michael Copeland, Sacha and Joshua Jackson, Christopher, Evan, and Brianna Thomas; 18 great grandchildren; and 17 great great-grandchildren. Bob was well loved by his family and will be greatly missed by all those whose lives he touched and supported in their journeys.
He was preceded in death by his parents, Harry and Mae Gooch; his wife, Donna Gooch; his daughter, Cynthia (Priestly) Copeland; his sisters, Zelda Burrell and Virginia Washington; and his brothers, Harry and Percy Gooch.
The funeral service will be held at 11:00am Saturday, June 3, 2023 at Colvin Funeral Home in Princeton, IN, officiated by Pastor Floyd Edwards. Interment will follow at Sand Hill Cemetery in Princeton. Taps will be played by his cousin Jim Davis with military rites by the Retired Military Veterans. Visitation will be 10am at Colvin Funeral home until service time.
Condolences may be expressed online at Colvinfuneralhome.com. The Colvin Funeral Home is honored to serve the Gooch family.