Robert Earl "Punkin" Everage, Sr.
Alton | Saturday, January 15 2022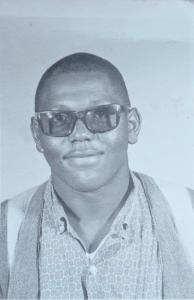 Robert Earl "Punkin" Everage, Sr. was born May 7, 1951, the son of Liston B. Everage and Rosie Lee (Rhodes) Everage in Alton, Illinois. He was a graduate of Alton High School and he attended Northeast Missouri State University (Truman State University) on a football scholarship. He worked at Laclede Steel and Chemetco Company, before starting his business Everage Construction. As a child, he attended Gross Street Church of God in Christ.He is survived by his two children, Reagan "Cat" Bea and Robert "Pety" Everage Jr.; his grandchildren, Christian Everage, Jillian Eastling, and Trent Darough; great-grandchildren, Jackson and Jeremiah; two sisters Peggy Everage and Arlinda Everage; and his brother Richard Everage Sr.; nieces, nephews, cousins, and friends.Punkin departed this life on Saturday, January 15, 2022, at River Crossing Nursing Home.In addition to his parents, he was preceded in death by his grandparents, Luebirtha Taylor John and Lovie Everage; his brothers Elve and Bobby; and his sisters, Martharie Brown and Cathy Williams.His favorite saying: "I paddle my own boat"; favorite song: "Manish Boy" by Muddy Waters.Rest in the Lord,and wait patiently for him.fret not thyself because of him who prospereth in his way,because of the man who bringeth wicked devices to pass.
Cease from anger and forsake wrath fret not thyself in any wise to evil.Psalms 37:7-8A Memorial Service celebrating his life will be held at a later date.
Obit Provided By:
Cathy M Williams & Sons Funeral Home