Robert B. St. Peters
Alton | Saturday, January 15 2022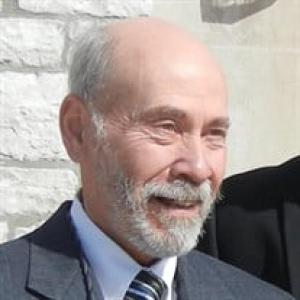 Robert B. St. Peters, 72, died at 10:00 pm Saturday, January 15, 2022, at Integrity Healthcare of Alton.
He was born April 15, 1949, in Darby Pennsylvania to Robert E. and Helen St. Peters (Lowery). Bob attended SS Peter and Paul School, Marquette High School (1967), Saint Louis University B.A. (1971), and Saint Louis University J.D. (1974). He practiced law in Alton, specializing in taxation, estate planning, real estate, and corporate law. Bob was the eldest of four children (Helen, Joan, and Janice.) On June 24, 1978, he married Karen (Bligh). She survives. Bob enjoyed history, golf, hiking, and collecting antique tools and books. Bob was preceded in death by his parents and grandparents. He is survived by his wife Karen, his children Brendan (Krista) St. Peters, and Brian St. Peters. Also surviving are his siblings, Helen (Lynn) Rehn, Joan (Ken) Beccard, and Janice St. Peters (Rick Weibel III). He will be greatly missed by his six grandchildren Sophia, Charlie, Gavin, Savannah, Mason, Kaylie, and his nieces and nephews.
Visitation will be held at a future date.
In Lieu of flowers, memorials may be made to American Parkinson Disease Association (Greater St. Louis Chapter) at www.apdaparkinson.org/community/st-louis/ways-to-give-stl/donate
Heartland Hospice
333 Salem Place
Suite 165
Fairview Heights, IL 62208
Attn: Heartland Hospice Foundation
Gent Funeral Home is in charge of arrangements. Online guestbook and information may be found at www.gentfuneralhome.com
Obit Provided By:
Gent Funeral Home