Rita Sterling
Glen Carbon | Monday, June 19 2023 |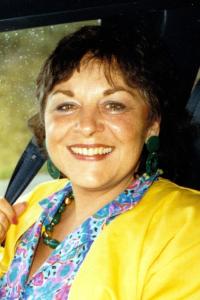 Rita Sterling, age 78, of Glen Carbon, IL, passed away on Monday, June 19, 2023 at River Crossing of Edwardsville, IL. Rita was born on April 21, 1945 in Glen Carbon, IL, a daughter of the late Albert M. and Hedwig (Kochanski) Cerny Jr.
Rita was a loving sister, aunt, great-aunt and a dear friend to many. She was a dedicated employee who retired from GMC in Kansas City, KS where she worked in the accounts payable and accounts receivable departments. After retiring from GMC, Rita went to work for the Madison County Sheltered Care Home in Edwardsville, IL and retired again after many years of faithful service. Rita was a proud and active member of AA for 35 years. She devoted many hours to volunteering with AA and enjoyed traveling to their conventions around the United States. Rita also enjoyed traveling with her friends and family members and took a special trip to Australia and New Zealand with her mother. One of her greatest loves was animals. Rita loved the many dogs and cats she cared for as pets over the years. She also enjoyed raising chickens and roosters and feeding wild critters that came into her yard. She took much delight in making crafts and sharing her creations with others. Rita will be remembered for the love she showed to her family and many friends.
In addition to her parents, Rita was preceded in death by a brother, Joseph Michael "Mike" Cerny; and by two sisters, Pat Schumacher and Mary Ann Ramatowski-Bullard.
She is survived by her loving siblings, William "Bill" (Wanda) Cerny, Rose Deatherage, Kathy (Ken) Langreder, Anthony J. "Jim" (Karen) Cerny, Monica (Vern) Langreder and Bridget (Guy) Jackson as well as many nieces, nephews, extended family and friends.
In celebration of her life, a visitation will be held from 10:00 a.m. until 12:00 p.m. on Saturday, June 24, 2023 at Irwin Chapel, Glen Carbon, IL, with the funeral service to follow at 12:00 p.m., with Rev. Daniel Ervin officiating. Interment will be in Buck Road Cemetery, Maryville, IL.
Memorial donations may be given to Partners for Pets Humane Society in St. Jacob, IL, or to the charity of the donor's choice. Donations will be accepted at the funeral chapel.
Condolences may be expressed to the family online at www.irwinchapel.com.
Obit Provided By:
Irwin Chapel Funeral Home