Richard Wade Chambers
Granite City | Sunday, December 27 2015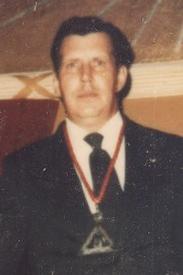 Richard Wade Chambers, 77 of Granite City passed away on Sunday, December 27, 2015 at his home surrounded by his family.

Richard was born on July 25, 1938 in St. Louis; a son of the late Richard W. and Alice L. (Meyer) Chambers Roberts. Richard was the long time owner and operator of Reliable Gas and proudly served his country in the United States Navy. He was a member of the Granite City Masonic Lodge #877 and a Shriner for over 40 years. In his free time Richard enjoyed playing golf but most of all he loved to spend time with his family.

He is survived by and will be missed his wife; Carol (Johnson) Chambers; his son, Rick and (Delores) Chambers of Madison, IL; his daughter, Mary and (Charles) McCoy of Granite City; grandchildren, Chelsea McCoy of Granite City, twins, Maddison McCoy and Rebecca McCoy both of Granite City; brothers, Jeffrey Chambers and Dennis Chambers.

Friends may call on Tuesday, December 29, 2015 from 5:00 to 8:00 p.m. with a Masonic service at 7:00 p.m. at Irwin Chapel, 3960 Maryville Road in Granite City. In celebration of his life services will be held on Wednesday, December 30, 2015 at 11:00 a.m. at the funeral home with Pastor Charles West officiating. Burial will follow at Calvary Catholic Cemetery in Edwardsville. Memorials are suggested to the Granite City Masonic Lodge #877.
Obit Provided By:
Irwin Chapel Funeral Home