Phillip Dean Moore Sr.
Jerseyville | Saturday, March 13 2010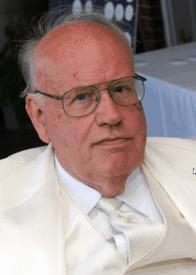 Phillip Dean Moore Sr., 78, passed away at his home at 2:12 p.m., Saturday, March 13, 2010 after an extended illness.
He was born Dec. 26, 1931 in Humboldt, Il., the son of the late Donovan & Florence (Shirley) Moore.
Phil graduated from Mattoon High School in 1949, and attended the University of Illinois prior to enlisting in the U.S. Army during the Korean War. After his discharge from the Army, he earned a baccalaureate in accounting from Eastern Illinois University in 1956, and earned a law degree in 1961 from St. Louis University while employed as an Internal Revenue Agent. He practiced law in Alton for two years before moving to Jerseyville in 1964, where he continued to practice for over 40 years until his health began to decline. He served his community as the Jerseyville city attorney and as a school board member. A longtime Elk, he was twice chosen to serve as Exalted Ruler of his lodge. He also belonged to the Moose Lodge, Westlake Country Club, Illinois Bar Association and the Jerseyville United Methodist Church. He loved spending time with family, reading, playing cards and traveling. Additionally, he was a lifelong Cubs fan.
In addition to his wife Rosemary, surviving are four sons & daughters in law, Phillip (Lori) Moore of Bonita, Ca., Chris & Stacey Moore of Granite City, Steve & Margaret Moore of Rochester, and Mark & Colleen Moore of Springfield; a stepson, Eric & Gail Olsen of Houston, Tx.; five granddaughters, Regan, Erin and Olivia Moore, Hannah & Abigail Wooley; four grandsons, Andrew, Audie and Stuart Moore, and Cassidy Wooley; one great grandchild, Hayden Wooley; two sisters, Betty Siems of Cambridge, Mn., and Marilyn Page of Marietta, Ga., one brother, David Moore of Atwater, Il, and many nieces and nephews and cousins.
He was preceded in death by his parents and one sister, Shirley Moore.
Memorial services will be conducted at 1 p.m. on Sunday, March 21, 2010 at the First United Methodist Church of Jerseyville. Rev. Mark Myers & Dennis Hill will officiate.
Memorials may be given to the Hospice of Southern Illinois in care of Crawford Funeral Home in Jerseyville.
Obit Provided By:
Crawford Funeral Home