Peggy (Allen)
Alton | Tuesday, June 9 2015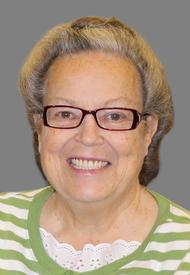 Peggy Lou Beck (Allen) passed from this life of 76 blessed years into the restful sleep of her Savior, Jesus, on June 9, 2015. Peggy was born to Herman Delbert and Lona Pearl (Banks) Allen on March 29, 1939, in Kellyville, Oklahoma. In August of 1956, Peggy married William Russell Gise, who precedes her in death. On January 2, 1966, Peggy married Hillard Howard Beck with whom she enjoyed over 49 years of marriage; he survives her today.
She is also survived by her eight children and their spouses:
Carl & Sheryl Daniels of Poteau, OK; Ruben & Penny Gise of Kiefer, OK; Barry & Cindy Brown of Jenks, OK; Jason & Janet Daves of Moberly, MO; Doyle & Joy Beck, Lee & Mary Crowe, and Dale & Jenni Beck of Godfrey, IL; and James & Stacey Beck of Jerseyville, IL.
She was blessed with 36 surviving grand/great-grandchildren: Aaron, Heidi, Rachel, Ashley, Daniel, Jamie, Melissa, Brad, Caleb, Josiah, Seth, Esther, Elizabeth, Naomi, Pearl, Ezra, Jeremiah,
Samii, Justin, Kaleigh, Julianne, Josh, Jolena, Ethan, Savanna, Lincoln, Audrey, Kristen, Tyler, Andrew, Megan, Dylan, Kendall, Jaylynn, Kody, Noah, and Elijah.
She is also survived by one sister Barbara White of New Mexico, and one brother, O. V. Allen of California. She is preceded in death by her twin sister, Patty Peepers; two sisters, Dorris Lavato and Audrey Conley; and two brothers, Delbert Allen and Dennis Hopkins.
Peggy enjoyed spending time with her large natural family as well as her even larger church family. For over 44 years, she has been a faithful pillar in this spiritual family, the church. Today, her memory is blessed as she is asleep in Jesus in His haven of rest.
Visitation will be from 5:00-9:00 p.m. Friday, June 12, 2015 at Godfrey Gospel Tabernacle and continue from 9:00 a.m. until time of funeral at 10:00 a.m. Saturday, June 13, 2015. Reverend Alfred Daves will officiate. Burial will be at Upper Alton Cemetery. Memorials may be made to Hillard Beck in care of Godfrey Gospel Tabernacle. Gent Funeral Home in Alton is in charge of arrangements. Online guestbook and information may be found at www.gentfuneralhome.com
Obit Provided By:
Gent Funeral Home