Pauline H. Holtmann
Glen Carbon | Wednesday, April 13 2016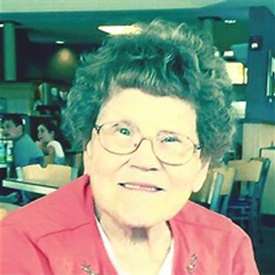 Pauline H. Holtmann, age 84, of Glen Carbon, Illinois died at 11:03 a.m. Wednesday, April 13, 2016, at Eden Village Care Center. Pauline was a retired cafeteria worker for Edwardsville School District #7 and volunteer at Anderson Hospital for 20 years.
She was born June 24, 1931, in Breese, Illinois the daughter of the late William & Agnes (Wellinghoff) Pingsterhaus. Pauline married Dale Holtmann on November 24, 1953, in Germantown, Illinois. He preceded her in death on July 7, 1985. She is survived by 1 son, Michael Holtmann & wife Michelle of Duluth, Georgia; 2 daughters, Barbara Bost & husband Joe of Kannapolis, North Carolina and Joan Lingle of Glen Carbon; 5 grandchildren, Michael & Margaret Holtmann, Kelly Plumley, Katie Niman, and Randy Joe Lingle; 5 great grandchildren; 3 brothers, Joseph Pingsterhaus & wife Lucille of Germantown, Gregory Pingsterhaus & wife Florence of Aviston, and Robert Pingsterhaus of Danville, Illinois and 1 sister-in-law, Pat Pingsterhaus of Dodge City, Kansas.
She was preceded in death by 4 brothers, Wilbert, Alphonse, Edwin & Edward Pingsterhaus and 2 sisters, Dorothy Rensing & Frances Pingsterhaus. Pauline was a member of St. Boniface Catholic Church and the Daughters of Isabella. She was also a volunteer for Faith in Action. Pauline enjoyed walking, swimming and spending time with family.
Visitation will be from 9 a.m. until 11 a.m. Friday, April 15, 2016, at St. Boniface Catholic Church. Services will follow at 11 a.m. Friday at the church. Interment will be at St. Boniface Cemetery. Family requests memorials to Eden Village.

Obit Provided By:
Weber & Rodney Funeral Home