Paul Golden
Brighton | Monday, December 6 2021 |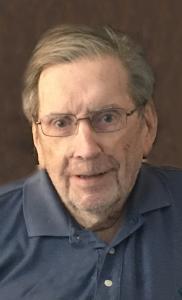 Paul Vincent Golden, 91, died peacefully on Monday, December 6, 2021, at his home in rural Brighton, Illinois. He was born on July 12, 1930, in Huntington, West Virginia, the last surviving of nine children born to the late Patrick F. and Julia (Donnelly) Golden. Paul graduated from St. Joseph High School in Huntington, West Virginia, and went on to serve our country as a paratrooper with the US Army during the Korean War. Upon his honorable discharge, he attended Parks College (now St. Louis University) where he obtained a Bachelor of Science in Aeronautics. He continued his education and received a Master's Degree from Webster University, and was working towards his Doctorate Degree.
Paul began his professional career with BF Goodrich in Akron, Ohio; he then moved to Ann Arbor, Michigan to work for Goodyear. In 1962, Paul moved his family back to the St. Louis, Missouri area (Hazelwood and Florissant) to work for McDonnell-Douglas, and then for the US Army Troop Support and Aviation Materiel Readiness Command, where he spent the majority of his career. He retired as a Supervisory Engineer in 1988.
He married the former Jenny Ann Jarema on April 27, 1957, at St. Agnes Catholic Church in St. Louis, Missouri. Throughout their 53 years of marriage, they shared in many wonderful memories while raising their four children in Florissant, Missouri, where they were active members of St. Ferdinand Catholic Church. Paul enjoyed spending time outdoors, camping, listening to music, and making wine. Following his retirement, Paul and Jenny relocated to Brighton, Illinois where he took part in the construction of their new home. He loved spending time clearing and working on their property, fishing in the lakes, and participating in the homeowner's association. Paul and Jenny also spent some time traveling around the country in their airstream. He had a knack for building and fixing things, and enjoyed working on cars, tractors, and other mechanical things throughout his lifetime. Before becoming an engineer, Paul even built and flew his own airplane.
Surviving are four children, Paula (and John) Vietor of O'Fallon, Missouri, Anne Gibbs of Brighton, Illinois, Jim Golden of O'Fallon, Missouri, and Julia (and Deron) Eudy of Saint Peters, Missouri; eleven grandchildren, Abby (and Steven) Asadorian, Victoria Smugala, Andrew Gibbs, Stephanie Vietor, Taylor Eudy, Matthew Gibbs, Elaine Gibbs, Hannah Vietor, Madison Eudy, Lesley Golden, and Lorey Golden; and two great-grandchildren, Ava Asadorian and Eli (Flash) Asadorian. In addition to his parents, Paul was preceded in death by his beloved wife, Jenny, on May 17, 2010; and his eight siblings, Mary Nelson, Helen Golden, Margaret Golden, James "Jake" Golden, Patrick "Ike" Golden, Loretta Wilson, Katherine "Kitty" Young, and Patricia Williams.
Visitation will be held from 11 a.m. until 12:45 p.m. on Monday, December 13, 2021, at Crawford Funeral Home in Jerseyville, Illinois. Funeral procession will leave the funeral home for a 1 p.m. mass at Holy Ghost Catholic Church in Jerseyville, Illinois. A private burial will take place at Jefferson Barracks National Cemetery in St. Louis, Missouri. For those desiring, memorials may be given to the St. Vincent DePaul Society or to the Salvation Army. Memories may be shared with the family by visiting www.crawfordfunerals.com.
Obit Provided By:
Crawford Funeral Home