Paul Fischer
Godfrey | Monday, October 26 2015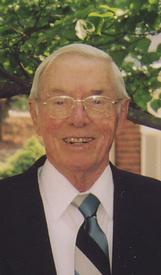 Paul M. Fischer, age 92, died Tuesday, October 26, 2015, at Integrity Healthcare of Godfrey.
He was born on December 11, 1922 at St. Francis Hospital in Litchfield, IL, the son of Walter H. Fischer and Elnora Grabruck Fischer. He attended school in Staunton, IL and Shurtleff College in Alton, IL before entering the Army. After his service, which included a 1 1/2 year tour of duty in the China, Burma, India Theatre, he attended St. Louis Dental School, graduating in 1950. He practiced dentistry in Alton, before retiring in 1990.
He was united in marriage to the former Mary Ellen Jones on January 29, 1944, in Sparta, IL. She pre-deceased him in November 2010 after 66 years of marriage.
He is survived by four children: Thomas (Cathrin) Fischer of Jersey City, NJ; Ann (Dr. David) Athas of Middleton, WI; Dr. John (Amy) Fischer of Alton; and Laura Fischer of Lakewood, CO; grandchildren Andrew (Allegra) Fischer, Rosemary (Philip) Holub, Julie Athas, Laura Athas, Nicholas (Monica) Fischer, Craig Fischer and Kirstin Fischer; and six great-grandchildren. He is further survived by a brother, Dr. Don (Sue) Fischer of Champaign, IL, and three nephews.
Dr. Fischer was a life member of both the American and Illinois State Dental Societies. He was a 50-year member of College Avenue Presbyterian Church, serving as a Trustee and Ruling Elder, a past member of the Piasa Bird Boy Scout Council Executive Board, and a long-time member and past president of Lockhaven Country Club. He was a member of the DuBourg Society of St. Louis University, the Alton Nature League, the CBIVA (St. Louis Basha), the St. Louis Senior Golf Association., the Jerseyville Elks, the Alton-Wood River Sportsmen's Club, and the Staunton, IL, VFW. To his many friends he would like to leave this thought so aptly phrased by Tennyson, "And may there be no moaning of the bar, When I put out to sea."
A memorial service is scheduled for Thursday, October 29th at 11:00 a.m. at Elias Kallal Schaaf Funeral Home in Godfrey. Visitation will be at 9:00 a.m. until the time of the service.
Paul was honored to have been a participant in the Land of Lincoln Honor Flight in 2009. Those wishing to remember him might consider this organization: Land of Lincoln Honor Flight, 57 Country Place, Springfield, IL 62703.
Online condolences at www.eliaskallalandschaaf.com.
Obit Provided By:
Elias, Kallal & Schaaf Funeral Home