Pastor Clyde E. Myers
Jerseyville | Monday, September 27 2021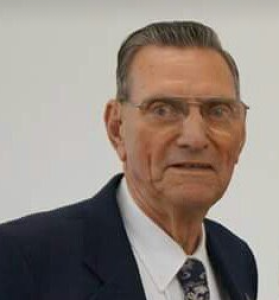 Pastor Clyde E. Myers, 88, passed away on September 27, 2021, at Jerseyville Manor.
He was born on October 6, 1932, in Grafton to George E. & Mabel W. (Jones) Myers. He married Virginia Kuehnel on December 5, 1953, at Delhi Baptist Church. He worked at Olin for 27 ½ years, was pastor at Believers Baptist Church for 24 ½ years, and was pastor at Cottage Hills Baptist Church for 19 years. He served in the US Army from 1953-1955 and was a Korean War veteran.
He is survived by his wife: Virginia Myers of Jerseyville; children: Dennis Myers of Jerseyville, Mark Myers of Godfrey, John (Jen) Myers of Jerseyville, Lori (Jason) Custer of Wood River; grandchildren: Lea (Rocky) Eveans, Melissa (Scott) Schaefer, Jessy Myers (companion: Selena Villarreal), Drew Myers, Grace Myers, Sara Custer (companion: Jason Huntsman), Cody Custer (fiancé: Erinn Karlak), Nathan (Erica) Custer; great-grandchildren: Rolen Eveans, Kennedy Eveans, Hadley Schaefer, Hazel Schaefer, Mason Custer, and Olivia Warnecke; sister: Wanda (Theron) Ridenbark of Jerseyville; brothers-in-law: Jim & Madeleine Kuehnel, Herman "Jake" Kuehnel, Rob & Norma Kuehnel, and James "Jiggs" Kallal; and sister-in-law: Mary Kuehnel.
He is preceded in death by his parents, daughter: Barbara Ann Myers, siblings: Donald (Esther) Myers, Francis (Carol) Myers, Marcella (Thomas) Kuehnel, and Shirley (Bill) Reynolds; sisters-in-law: Edith (Bill) Scott, Helen (Vernon) Bounds, and Opal Kallal; brothers-in-law: Gene Kuehnel, Bill (Sandy) Kuehnel, and Eddie (Maxine) Kuehnel.
Visitation will be held on Thursday, September 30, 2021, from 3:00 pm – 8:00 pm at Delhi Baptist Church. Funeral will be held on Friday, October 1, 2021, at 10:00 am at Delhi Baptist Church. Military graveside rites will be conducted by American Legion Post #492. Pastor Tom Olney will officiate the service and burial will take place at Oak Grove Cemetery. In lieu of flowers, memorials may be made to the March of Dimes or the USO.
ALEXANDER FUNERAL HOME IN CHARGE OF ARRANGEMENTS
Obit Provided By:
Alexander Funeral Home