Neal W. Schwartzkopf
Alton | Saturday, August 1 2015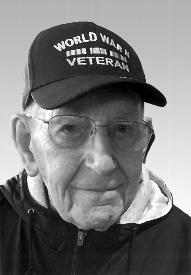 Neal W. Schwartzkopf, 89, of Alton, died peacefully August 1 surrounded by his wife and children.
Neal was born January 31, 1926 to the late Clarence and Marie (Bladt) Schwartzkopf in St. Louis, MO.
When Neal was 8, his father was transferred to Alton as the manager of the Coca-Cola Bottling Plant. Neal attended Alton public schools and graduated from Alton High in 1944. After graduation, Neal enlisted in the US Army Air Corps where he gained the rank of Staff Sergeant with the 498th Bomb Group, 875th Bomb Squad, and Regiment 73rd Wing. He was a tailgunner with the B29 Flying Fortress stationed in Saipan. Neal returned home in 1946 and enrolled in Shurtleff College (SIU Alton), where he earned a bachelor's degree in business. In 1947, he married his high school sweetheart, Kathleen (Fahrig), and was married for over 50 years when she passed away in 1997. After years of working for Standard Duplicators, Neal established Schwartzkopf Printing, Co. in 1972 as a family business. Neal was a lifelong member of St Mary's Parish in Alton where he was on the parish board and sang in the choir. He loved music and played both the clarinet and saxophone. Neal played the clarinet in the Alton Community Band, the New Horizons Band in Alton, and also while living in Ft. Meyers, FL, he played in the Lee County Community Band and the Sanibel Island Band. Neal is a longtime member of Alton VFW Post 1308 and was former member of the American Legion in Fort Meyers, FL
Neal is survived by his wife, Jane (Moylan), who he married in November 1999. Also surviving are three daughters all of Alton: Christine (Michael) Galligan, Teresa (Michael) Dressel, and Amy Ogburn. One son: Jim (Donna) Schwartzkopf of Dorsey. One daughter-in-law: Marie (Mark) Schwartzkopf of Kerrville, TX. Four step-children: Michael (Suzie) Moylan of Wauwatosa, WI; Larry Moylan of Broken Arrow, OK; Kathleen Buck of Alton; Connie (Bob) Schneider of Decatur, AL. Neal leaves behind 29 grandchildren and 19 great-grandchildren. Preceding him in death in addition to his first wife, Katie, are two sons, Mark and Tom, grandson David Schroeder, and son-in-law, Rich Ogburn. Neal was a wonderful and loving husband, father, grandfather, and friend who will be missed by all who knew him. Special thanks to the West Wing at Eunice Smith Nursing Home for their outstanding care and support of Neal and his family.
In celebration of his life, a Rosary Service will be held at 4 pm Thursday August 6, 2015 at Staten-Fine Funeral Home in Alton where the visitation will follow from 4:30 pm to 8 pm.
A Mass of Christian Burial will be held at 10 am Friday August 7, 2015 at St. Mary's Catholic Church in Alton with Fr. Jim Walther celebrant.
Burial will follow at St. Joseph's Cemetery in Alton.
Memorials may be made to St. Mary's School of Alzheimer's Association.
Online condolences and guest book can be found at www.staten-fine.com
Obit Provided By:
Staten, Fine & Burke Funeral Home