Merle C. Bassett
East Alton | Saturday, February 6 2016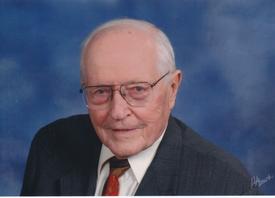 Merle C. Bassett, 87, passed away at 3:35 pm Saturday, February 6, 2016 at his home.
He was born November 9, 1928 in Fosterburg, IL, the son of Clyde H. and Nellie E. (Schmidt) Bassett.
He married Norine Burk on March 28, 1948 at St. John's United Church of Christ in Wood River. She survives.
Merle attended Alton High School for 2 years and then graduated from East Alton Wood River High School in 1946. He attended DePauw University for one and a half years and graduated from Washington University in 1950. He graduated from Washington University Law School in 1952 where he was awarded the order of COIF and graduated second in his class. He was a member of St. John's United Church of Christ in Wood River, where he taught the mixed adult Sunday School Class for 19 years with Oliver Honke. He was a 50 year member of the Wood River Masonic Lodge #1062 where he was a 32 degree Mason, he was a Demolay, a Shriner, a former member of the Wood River Jaycees and former chairman of the March of Dimes. He served as the president of the Airport Board for the State of Illinois, he was a member of the American Bar Association, the bar associations of Illinois, Missouri and Madison County, a former past president of the Toast Masters and the East Alton Wood River High School Foundation Board. He was a member of the East Alton Wood River High School Hall of Fame in the inaugural class of 2009.
He was an attorney at Bassett Law Office in Wood River for 64 years. He was a former special Assistant Attorney General for the State of Illinois from 1965 to 1999. He helped condemn the property for Lewis and Clark Bridge. He was Assistant States Attorney from 1956 to 1964 under Dick Mudge. He was the attorney in the prosecution of James Earl Ray in a burglary charge. He was a Khoury League coach for many years, an avid golfer and trap shooter, and a member of Lockhaven Country Club.
Throughout his career he represented the City of Wood River, Southwest Illinois Development Corporation, Village of Hartford, Rosewood Heights Sanitary District, Wood River Township, Brighton Township, Village of Roxana, Village of Bethalto, Foster Township and the Wood River Drainage and Levy District.
In addition to his wife, he is survived by his three daughters and sons-in-law, Laura Bassett Friedman and Eric of Westlake, CA, Lynn Bassett and Tommy House of Bethalto and Rene and Tracy Butler of Bethalto; eight grandchildren and their spouses, Marina Bassett, Sasha Bassett, Kaleigh (Andrew) Rider, Kyle (Val) Bassett, Madison Friedman, Tyler Friedman, Kathryn Butler and Nathaniel Butler; and two great grandchildren, Reygan and Jackson. The family wishes to thank special friends, Beverly Pohlman, Jeannine Burk, Jennifer and Matt Stimac, Matt Barton, Kevin and the Staff of Camp's Drug Store and the Rosewood Heights Volunteer Fire Department.
He was preceded in death by his parents, his stepmother, Velma Bassett and his stepfather, Darrell Finley, a son, Gerald W. Bassett and a grandson, Jerrad C. Bassett.
Visitation will be from 4 to 8 pm Wednesday, February 10, 2016 at St. John's United Church of Christ in Wood River.
Services will be at 10:00 am Thursday, February 11, 2016 at the church with Pastor Mike Southcombe officiating.
Burial will follow at Rose Lawn Memory Gardens in Bethalto.
Memorials can be made to the East Alton Wood River High School Foundation for the Bassett Scholarship or St. John's United Church of Christ.
Elias, Kallal and Schaaf Funeral Home in Bethalto is in charge of arrangements.
Online condolences and guest book may be found at www.eliaskallalandschaaf.com
Obit Provided By:
Elias, Kallal & Schaaf Funeral Home