Mary Shaw
Fieldon | Thursday, April 29 2021 |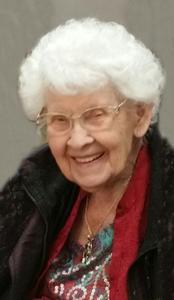 Mary Helen Shaw, 93, died at 8:50 a.m., Thursday, April 29, 2021 at her home in Fieldon.
She was born in Greene County, Illinois on December 9, 1927 to the late Harry Lynn and Nellie Louella (Adams) Mundy.
She then married the love of her life, Paul Edward Shaw on June 8, 1946 and together they shared 57 years of marriage, prior to his passing on April 19, 2004.
She spent most of her days enjoying the animals and walking the hills of the farm. Mary loved her grandchildren and if you ever asked her, they did no wrong.
She is survived by her daughter and son-in-law, Connie and Donald Griesemer of Fieldon; a son-in-law, Kenneth Searles of Grafton; a sister, Marjorie Gilbert of Eldred; four grandchildren and their spouses, Don and Laura Edward of Carrollton, Timothy Griesemer of Greeneville, Pamela and Chris Ware of Jerseyville, Mindy and Tommy Sutton of Grafton; six great-grandchildren, Nichole Poppek of Elsah, Dakota Griesemer of Carrollton, Sierra (Mike) Gross of White Hall, Carson Griesemer of Dow, Kylie Griesemer of Jerseyville, and Brady Ware of Jerseyville; two great-great-grandchildren Una Fae and Hunter of Elsah.
In addition to her parents and husband, she was preceded in death by her daughter, Agnes Searles on April 9, 2021; four sisters, Louella Mundy, Laura Fenstermaker, Lois Shaw, and Hazel Varble.
Visitation will be from 10 a.m. until time of Funeral Services at 12 noon on Tuesday, May 4, 2021 at Crawford Funeral Home in Jerseyville.
She will be laid to rest in the Fieldon Cemetery.
Memorials may be given to either the Fieldon Baptist Church Food Pantry or Got Faith Ministry.
Obit Provided By:
Crawford Funeral Home