Mary Estalene "Essie" Heitzig
Fieldon | Saturday, November 28 2015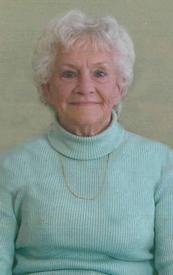 Mary Estalene "Essie" Heitzig, 91, died at 9:53 p.m., Saturday, November 28, 2015 surrounded by her loving family after period of declining health.
She was born in Jersey County on Aug. 3, 1924, the daughter of the late Harry & Edna Mae (Devening) Lyles.
Being from a large family, Essie learned early on the meaning of hard work, loyalty to family, and a strong believe in God praying the Rosary daily. She married Herbert Joseph Heitzig on Nov. 8, 1944 at the St. Mary's Catholic Church in Fieldon, and together they raised their children in a loving home, where they instilled into them their same values of hard work, love of one another, and a solid foundation in which to base their lives on.
Herb and Essie shared nearly 54 years together before his death on April 8, 1998.
In her early years, Essie worked at the International Shoe Factory in Jerseyville, but after her marriage, she concentrated on raising her family and running the family trucking business from home.
She enjoyed her family, as well as the gambling boat, and had a fondess for the slot machines.
Surviving are her six children & their spouses, Sandra & Don Mayberry of Jerseyville, Donna & Bill West of Jerseyville, Greg & Linda Heitzig of Fieldon, Karen "Worm" Heitzig of Fieldon, Lisa & Bill Darr of Fieldon, and Marla & Randy Russell of Jerseyville; 11 Grandchildren and their spouses, Jill & Randy Fraley of Grafton, Jennifer & John Myers, Leah & Richie Ruyle, Lindsey & John Lane, Luke & Jenny Heitzig, AJ & Nikki Heitzig all of Jerseyville, Dia & Dale East of Bennington, Ne., Casey & Rick Anderson, Aaron Darr, and Adam & LeAnn Russell all of Fieldon, and Jarrod & Tina Russell of Jerseyville; 20 Great Grandchildren; three brothers, Harry "Dick" Lyles of Jerseyville, James Lyles of Kane, and Robert Lyles of Jerseyville; five sisters, Lillie Wilson of Jerseyville, Cora Hadlock of Casper, Wy., Nora Jones of Jerseyville, Edith Dugger of Jerseyville, and Janice O'Brian of Lake Ozark, Mo.
In addition to her parents and husband, she was preceded in death by an infant son, Michael Edward Heitzig; two brothers, L.C. Lyles and Herbert Lyles; and five sisters, Myrtle Alice Lyles, Violet Lyles, Ruby WIlliams, Geraldine Hazel "Pete" Jones and Marcella "Mickey" Wallace.
Visitation will be from 10 a.m., until time of funeral Mass at 1 p.m. at St. Mary's Catholic Church in Fieldon. Father William Hembrow will officiate.
Burial will be in the St. Mary's Cemetery in Fieldon.
Memorials may be given to either the St. Francis/Holy Ghost Catholic Schools in Jerseyville, Blessing Hospice of Greene County, or to the Alzheimers Association.
Crawford Funeral Home in Jerseyville is in charge of the arrangements.
Obit Provided By:
Crawford Funeral Home