Martha Weis
Edwardsville |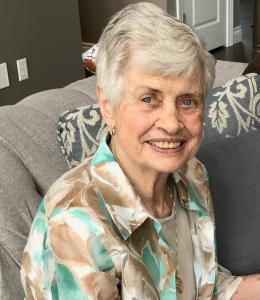 Martha May Weis passed away peacefully with her children by her side on September 30, 2023, at 11:53 p.m. at the age of 89 in Edwardsville, IL. She was born on November 1, 1933, in St. Rose, IL to the late Rosalia and Bernard Schumacher. Martha was a devoted wife, mother, and grandmother, known for her loving nature and creativity.
Martha was a loving mother and wife who dedicated her time to her family and various charitable endeavors. For many years, she volunteered for the C.U.R.E. Childhood Cancer Association in St. Louis, Missouri, raising funds for leukemia. Martha and her husband, Bernell, shared a love for travel, exploring destinations such as Europe, Hawaii, Alaska, and the western states. On their 50th anniversary, their children and their spouses surprised them with a western Caribbean cruise for the entire family. Martha's 80th birthday was celebrated with a week-long family trip to the Gulf Coast of Florida.
Survived by Mary Jo (Dave) Daniels of Highland, IL; Karen R. Weis of Millbrook, NY; Michael B. (Nicole) Weis of Aurora, CO; Trudy A. (Bill) Luchini of St. Louis, MO; Stacie W. (Dave) Sefcik of LaGrange Park, IL; and Ryan M. (Diana) Weis of St. Louis, MO. Martha was a cherished grandmother to Brian Luchini, George (Natalie) Marron, Courtney (Josh) Mahlandt, Bianca Parinello, Luciene Parinello, Avery Parinello, Matthew (Lauren) Weis, Joshua (Heather) Weis, Ava Sefcik, Nathan Sefcik, and great-grandchildren Vivian Marron, Cecilia Marron, Jack Mahlandt, Rhys Mahlandt, and Evangeline Weis. She is also survived by her sisters Rosemary Venhaus, Patricia (Jerry) Lampe and Marguerite (Ray) Fabre, sisters-in-law Shirley Schumacher and Florence Bohnenstiehl.
She is preceded in death by her husband of 52 years, Bernell, daughter Barbara, mother Rosalia Schumacher, father Bernard Schumacher, brothers Gervase Schumacher, Wendelin Schumacher, Joseph Schumacher, Thilbert Schumacher, sister Georgina Schumacher, sister Theresa Buchmiller, sister-in-law Norma (nee Buske), and brother-in-law Valentine Buchmiller.
Martha's educational journey began at St. Rose Elementary School. She later pursued her high school education through homeschooling and earned her GED.
In her professional life, Martha worked at the Alton Box Board Company in Highland, IL, before marrying Bernell in 1956 and becoming a dedicated mother, housewife and supported the farm as bookkeeper. Together, they successfully expanded their beautiful farm. Late in her career, Martha worked in retail at Famous Barr in Fairview Heights, IL.
Martha and Bernell were active members of St. Elizabeth Catholic Church in Marine, IL, where she taught PSR classes and actively participated in the Altar Society and prayer group for many years. As a couple, they sponsored Father Thomas in his educational pursuit to become a Catholic priest in India. They also generously donated to his missionary work in India.
Outside of her professional and family life, Martha found joy in her hobbies. She expressed her creativity through making stained glass stepping stones and windows. Known for her delicious baked pies, Martha delighted in sharing her culinary talents with loved ones. Sewing was another activity she enjoyed. She also stayed healthy and developed lifelong friendships by being a long-term member of the YMCA.
Visitation for Martha will be from 9:00 a.m. until 11:30 a.m. on Saturday, October 7, 2023 at Spengel-Boulanger Funeral Home, Highland, IL. Funeral Mass will be at 12:00 noon on Saturday, October 7, 2023 at St. Elizabeth Catholic Church, Marine, IL. Interment will be next to her husband in St. Elizabeth Catholic Cemetery, Marine, IL. A funeral luncheon will be held in the church social hall after the interment.
Memorial contributions are suggested to Bright Focus Foundation or St. Elizabeth Catholic Church, Marine, IL.
Martha Weis will be remembered for her loving nature, dedication to her family, and her numerous contributions to her community. She will be deeply missed by all who had the privilege of knowing her.
Obit Provided By:
Spengel-Boulanger Funeral Home