Martha Elisabeth Kottwitz
Edwardsville | Thursday, March 3 2016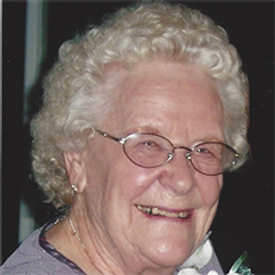 Martha Elisabeth (Fleischer) Kottwitz passed away on March 3rd, 2016, at the age of 93. She lived at home with her husband, George, until the last 11 days of her earthly life. She was born on March 9th, 1922 near Rockville, MO. She was the youngest child of 4 born to Joseph & Elisabeth (Fischer) Fleischer. Her parents as well as her sister Ella (Altevogt) of Alhambra, IL, brother Otto Fleischer of Rich Hill, MO, and sister Norma (Altevogt) of Mt. Olive, IL preceded her in death.
Martha married George Kottwitz of Drake, MO on July 14, 1951. They were married for 64 years. Their devoted marriage was a wonderful example for all to witness. She was the loving mother of 3 children and their spouses: Ellen (Ron) Henschen of Edwardsville, Martin (Christine) Kottwitz of Edwardsville, and Carol (Charles) Byer of Calverton, NY. She had 8 grandchildren: Joshua Henschen of Edwardsville/Europe & Amanda Henschen (Chris) Sansom of Green Valley, IL, Katrina Kottwitz (Matt) Galen of Kirkwood, MO, Michael (fiancee Kate McKenna) Kottwitz of Springfield, MO, Gregory Kottwitz of Edwardsville, Andrew (Megan) Byer of Burke, VA, Amy Byer (Ben) Riley of St. Louis, MO, & Christopher Byer of College Station, TX. She was blessed with 7 great-grandchildren: Eliya & Jacob Sansom, Camille & Lucille Galen, Maddie & Lucas Byer and Oliver Riley and with many nieces & nephews.
Martha worked at CPH in St. Louis before she married and she was a cook for Trinity Lutheran School for many years. She participated in the Dorcas Society at Trinity Lutheran Church and was a member of the Madison Co. Home Extension. She was an accomplished seamstress and admired homemaker. She crocheted many afghans, made quilts and crafted many needlework pictures that grace her families' homes. Visitation will be from 3 to 6:00 p.m. Sunday, March 6, 2016 at Trinity Lutheran Church, 600 Water Street, Edwardsville. Funeral services will be at 10 a.m. Monday, March 7th at Trinity Lutheran Church with Rev. John Shank officiating. Interment will follow at Valley View Cemetery. Memorials may be given to Trinity Lutheran Ministries or the Metro East Lutheran High School.

Obit Provided By:
Weber & Rodney Funeral Home