Margaret Jackson
Fieldon | Thursday, June 9 2022 |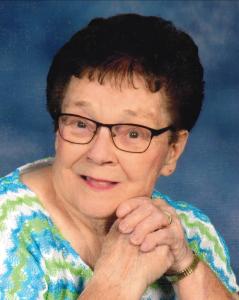 Margaret Marie Jackson, 81, died at 11:57 a.m., Thursday, June 9, 2022 at Jerseyville Manor Nursing Home.
She was born in Fieldon, Illinois on January 25, 1941, the daughter of Edwin and Minnie Margaret (Hagen) Devening.
She grew up in the Fieldon area on the family farm with her four siblings and learned early on the value of hard work, family and loyalty.
She graduated from Jersey Community High School in Jerseyville, and married Russell Jackson Sr., on January 28, 1961 in White Hall, Illinois. Their 47 year marriage was blessed with many happy memories and the joys of their two sons and families, until his death on May 17, 2008.
In her earlier years, Marie was employed at Reese' Drug Store and worked numerous years at Bush's IGA in Jerseyville. In 1980, she opened Marie's Market in Rockbridge. She owned and operated the grocery store for many years, until converting it to Jackson's Triple Inn. In addition to working outside of the home, Marie was a dedicated homemaker and loving mother, tending to whatever was needed, making sure that everyone was happy, and was a vital part of the Jackson family farm.
Surviving are her two sons and daughters in-law, Rusty and Rhonda Jackson of Medora and Denny and Sharon Jackson of Rockbridge; six grandchildren and their spouses, Bret and Mindy Jackson of Rockbridge, Kiley and JR Charlton of Valmeyer, Dean and Kendra Jackson of Greenfield, Linley and Alan Hoyt of Dow, Austin and Aja Cress of Kampsville, and Ryan Cress of Florissant, Missouri; eight great grandchildren; two sisters and a brother in-law, Katherine Wessel of Rockbridge and Pearl and Robert Snyders of Batchtown; and numerous brothers in-law and sisters in-law, Helen Devening of Fieldon, Gus Blumenberg of Rockbridge, Betty and Sherman Devening of Jerseyville, Linda and Ronnie Johnson of Shipman and Carol Jackson of Greenfield.
In addition to her parents and husband, she was preceded in death by a brother, Guy Devening; and brothers in-law and sisters in-law, Oliver Wessel Jr., Vivian and Dale Rimbey, Virginia Blumenberg, June and Donald Bain, Dean Jackson, Leroy Jackson, Bobby Jackson, Glenn "Bo" Jackson, Jeanette Jackson and Peggy Ash.
Visitation will be from 4 to 7 p.m., Thursday at Crawford Funeral Home in Jerseyville, where funeral services will be conducted at 10 a.m. Friday. Rev. Kevin Hembrough will officiate.
Burial will be alongside her husband at the Kane Cemetery.
Memorials may be given to the Rockbridge United Methodist Church.
Memories may be shared at www.crawfordfunerals.com.
Obit Provided By:
Crawford Funeral Home