Margaret L. Schulz
Alton | Friday, September 4 2015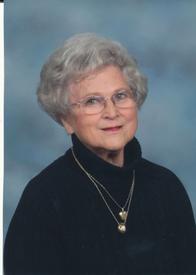 Dateline: Alton
Margaret L. Schulz, age 91, passed away at 6:01 pm on Friday, September 4, 2015 at Alton Memorial Hospital surrounded by her children and most of her grandchildren.
She was born in Roxana, IL on June 17, 1924, the daughter of the late August H. & Mary (Jaros) Astroth.
She was the loving wife of Alfred F. Schulz whom she married on July 8, 1944 in Alton at St. Mary's Catholic Church. He preceded her in death on September 5, 2002.
Margaret was a member of St. Mary's Catholic Church, 62 year member of the Alton Daughters of Isabella, St. Ann's Auxiliary, Friends & Neighbors, New Beginnings and LIFT groups. She enjoyed playing Pinochle with her cousins for 30 years and playing Bunco with her family and friends for 28 years. But Margaret was most proud of her Pinochle Club which she belonged to for 62 years with her sister and good friends Pat Saale, Marge McGraw, Therese Schulz, Norma Fisher, Pat Fischer, Mary Eileen Deem, Meredith Arnold, and Joan Paddock. She was also an avid St. Louis Cardinal fan.
She is survived by seven children and their spouses, Alfred D. "Bo" & Norma Schulz of Wood River, Steve & Jane Schulz of Kingston, PA, Debbie & Chris Schuneman of Alton, Bob & Debbie Schulz of Peoria, Mary Ann & Gary Morris of Alton, Nancy & Joe Scyoc of Alton and Wayne "Gerry" & Linda Schulz of Godfrey; twenty-eight grandchildren, thirty great grandchildren; one brother, Robert Astroth of Breese; one sister, Patricia Saale of Alton; and one sister-in-law, Marjorie Astroth of FL.
Preceded in death by her parents, husband, three brothers, Richard Astroth, Lavere "Liz" and his wife Jean Astroth, Joseph Astroth; a sister-in-law, Jeannie Astroth and a brother-in-law, Carl Saale.
Visitation will be from 4 to 8 pm Tuesday, September 8, 2015 at Staten-Fine Funeral Home in Alton.
A Mass will be held at 10 am Wednesday, September 9, 2015 at St. Mary's Catholic Church in Alton.
Burial will be at St. Joseph Cemetery in Alton, IL.
Memorials may be made to St. Mary's Church or School and or Masses.
Online condolences and guestbook may be found at www.staten-fine.com
Obit Provided By:
Staten, Fine & Burke Funeral Home