Mae Peipert
Alton | Wednesday, August 26 2015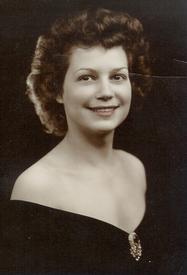 Mae F. (Warden) Peipert, age 92, passed away on Wednesday, August 26th, at home, surrounded by her family.
Mae was born March 25, 1923, in Clinton, Kentucky, to the late Henry and Edna (Dowdy) Warden.
Mae's family moved to the Alton area in 1924. She was a member of the Alton Drum & Bugle Corp and a pitcher for the Alton softball league at Hellrung Park. She later worked at The Frosted Malt Shop and at Winchester-Western (Olin), where she packed ammunition during World War II. Mae also held a cosmetology license and was employed until her marriage to Bernard L. Peipert, Sr., on September 30, 1944 at Sts. Peter and Paul Church in Alton. Mae was an avid gardener, a woman of strong faith, and she dedicated her life to caring for her children and grandchildren.
In addition to her husband, Mae is survived by two daughters, Shelly Peipert and Jill (and Steve) Wegescheide; two daughter-in-laws, Nancy (and Denis) Wendle and Becky (and Karry) Wilson; nine grandchildren, Devin (and Victoria) Peipert, Molly Peipert, Adam (and Brooke Lobb) Peipert, Monica (and Eric) Emde, Scott (and Leslie) Peipert, Elizabeth Peipert, Maggie (and Scott) Monahan, Matthew Wegescheide, and Andy Wegescheide; and four great grandchildren, Hazel Peipert, Tucker Emde, Mazie Emde, and William Monahan.
In addition to her husband and parents, Mae is also preceded in death by her brother Henry and her two sisters, Marie McGovern and Dorothy Johnson. Mae is also preceded by her daughter, Mary Ellen; her four sons, John, Larry, Benny, and Mark; and her daughter-in-law, Rosemary (Adams/Peipert) Gaston.
Visitation will be from 9:30 am until time of Mass at 10:30 am on Monday, August 31, 2015 at St. Ambrose Catholic Church in Godfrey, Father Steve Pohlman will be celebrant.
Burial will be at St. Patrick's Catholic Cemetery in Godfrey.
In lieu of flowers, donations may be made to The Gateway Hemophilia Foundation 14248 F Manchester Road, PMB#310, Manchester, MO 63011. 314-482-5973
Staten Fine Funeral Home is in charge of arrangements.
Online tributes and guestbook may be found at www.staten-fine.com
Obit Provided By:
Staten, Fine & Burke Funeral Home