LaVerne Bloemker
Hamel | Friday, September 1 2023 |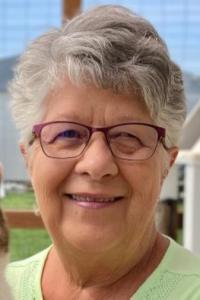 LaVerne B. Bloemker, age 81 of Hamel, IL, died Friday, September 1, 2023, at her home in Hamel, IL.
She was born on Friday, September 26, 1941, in Alhambra, IL, the daughter of Melvin A. "Buddy" and Clara Helene Sophie (nee Suhre) Greear.
On Saturday, December 17, 1960, she married Lawrence Clarence Bloemker.
She was a member of Salem United Church of Christ and the Hitz Memorial Home Auxilillary.
LaVerne was born at Highland; grew up in rural Alhambra (near the Worden "Y"); and graduated from Staunton High School in 1959. She had worked for the Alhambra Telephone Company & the Granite City Army Depot prior to marriage. After her marriage, they lived in Alhambra, moved to Utah for a year and then to Hamel for the rest of her life.She and her husband operated Chuck's Convenience Store and Conoco Gas Station in Hamel for 28 years - closing in 1999. LaVerne worked at SIU-E for some 10 years in the Admissions office and as Administration Clerk for the SIU-E Police Department.She had a great love for ancestry - especially local history and genealogy. She even wrote a column on Hamel history for the Madison County Chronical. She volunteered and was an employee at the Madison County Archival Library. Travelling was a fun thing for her, trips to the Holy Lands, Ireland, Yosemite National Park were favorites. LaVerne was known for her baking - especially her cookies. She was a big Dallas Cowboys fan. Her collection of glassware - vases & bowls was extensive. In the 1970's-'80's she served as Village Clerk for Hamel. (Her son, Larry, is Mayor of Hamel and her son, Gary, is Asist. Fire Chief). She also volunteered at her church and the Hitz Home.
Survivors include:
Son - Larry Lee Bloemker , Hamel, IL
Son - Gary Lee (Fiancee- Amy Rogier) Bloemker, Hamel, IL
Sister - Betty Ann Greear
Brother - Robert (Judy) Greear, Godfrey, IL.
She was preceded in death by:
Father - Melvin A. "Buddy" Greear DOD:10/13/04
Mother - Clara Helene Sophie Greear (nee Greear) DOD:10/02/91
Husband - Lawrence Clarence "Chuck" Bloemker DOD:9/13/04
Brother - Melvin Rudolph "Buddy" Greear DOD: 9/28/13.
Arrangements are being handled by Dauderman Mortuary in Alhambra, IL.
Visitation will be held from 4:00 PM to 8:00 PM on Wednesday, September 6, 2023, at Dauderman Mortuary in Hamel, IL and from 9:00 AM to 10:00 AM on Thursday, September 7, 2023, at Salem United Church of Christ in Alhambra, IL.
Funeral service will be at 10:00 AM on Thursday, September 7, 2023, at Salem United Church of Christ in Alhambra, IL., with Rev. Jeremy R. Wood, Pastor, officiating.
Interment will be at Salem Cemetery in Alhambra, IL.
Memorial contributions may be made to Hitz Memorial Home /or/ Salem United Church of Christ.
Obit Provided By:
Dauderman Mortuary - Hamel