Kenneth "Kenny" Edward Donelson
Edwardsville | Monday, January 1 2018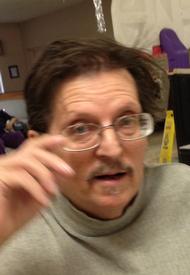 Kenneth "Kenny" Edward Donelson, 59, passed away Monday, January 1, 2018 at Edwardsville Nursing & Rehab in Edwardsville.
He was born March 13, 1958 in Alton, IL to James Edward and Wilma LaVerne (Siddens) Donelson.
Kenny was a 1976 graduate of Roxana High School. Following graduation he attended The Broadcast Center to pursue a career as a radio producer. In Feb. 1980 he sustained a traumatic brain injury in a motor vehicle accident which altered his course and life dramatically. Despite this he maintained his sense of humor, immense love to entertain and his positive attitude. Kenny enjoyed Rock N Roll and gardening.
He is survived by his mother LaVerne of Rosewood Heights; two brothers, James Gregory (Lesa) Donelson of Rosewood Heights and Michael Ernest (Rhonda) Donelson of Waterloo; a sister, Marcia Lynn (Paul) Shetley of Bethalto; 5 nieces, 4 nephews, and 4 great nephews.
He was preceded in death by his father.
Visitation will be Friday, Jan. 5 at Paynic Home for Funerals from 10 a.m. until services begin at 11 a.m. with Pastor Thomas Nadelin officiating.
Burial will follow at Valhalla Memorial Park in Godfrey.
Memorials may be made to St. Jude's Children's Research Hospital or Rosewood Heights Community Church.
An online guestbook is available at www.paynicfh.com