Kelsey Ann Lyons
Jerseyville | Friday, June 4 2010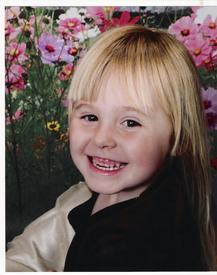 Kelsey Ann Lyons, 7, died at 11:59 p.m., Friday, June 4, 2010 as a result of injuries sustained in a house fire.
She was born in Alton on July 30, 2002, and had just completed her second grade year at West Elementary in Jerseyville.
Kelsey loved playing her Wii, swimming, playing outside, watching "The Chipmunks" movies, going to church with her grandparents at the Dow Southern Baptist Church, as well as school, wanting to be a veteranarian when she grew up.
Surviving are her father & stepmother, John David & Jamie Lyons Jr. of Jerseyville; her granparents, Cynthia Gentry of Jerseyville, Wesley Smith of Wilsonville, Ann & Roger Pace of Grafton, and Rayburn & Margaret Holyfield of Grafton; her siblings, Caleb Austin, Sierra Brannon, Shawn Lyons, John Lyons, Preston Lyons, and Ryan Lyons; and numerous aunts, uncles & cousins.
She was preceded in death by her mother, Shanna (Smith) Lyons who was killed in an automobile accident in July 2008 and her grandfather, John David Lyons Sr.
Visitation will be from 4 to 8 p.m. Wednesday at the Crawford Funeral Home in Jerseyville, where funeral services will be conducted at 11 a.m., Thursday. Rev. David Brown will officiate.
Burial will be in the Noble Cemetery in Otterville.
Memorials may be given to the family in care of the funeral home.



Obit Provided By:
Crawford Funeral Home