Judith Perrin
Collinsville | Wednesday, September 13 2023 |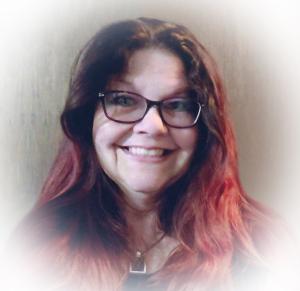 Judith Ann, nee Lucas, Perrin, formerly of Collinsville, IL, born August 26, 1967, passed away on September 13, 2023, in her home in Imperial, MO with her family by her side.
Judy worked at Collinsville Public Library as a teenager. She was also involved in Cub Scouts as a den leader. For many years, she worked for Bridal Originals in Collinsville, Engel Industries, followed by Star Manufacturing in Missouri. The last few years, Judy worked for Swiss Colony and Color Street Nails. She then went into business for herself as a mixed media artist, called Judy P's, in My Mind's Eye Shop. Judy was a member of St. Peter and Paul Catholic Church in Collinsville and St. Joeseph's in Missouri. She loved reading, crafting, being outdoors, and spending time with her family and friends. Her biggest joy was raising her son, Cole, and being involved in all his activities.
She was a beloved wife, mother, grandmother, and aunt.
Judy was preceded in death by her parents, Edward and Janette, nee Ardison, Lucas.
She is survived by her husband, Bill Perrin, whom she married October 19, 1994, in Collinsville; a son, Cole Perrin of Imperial, MO; two daughters: Amie (Beau) Davis of Cheney, KS, and Carrie (Dalton) of St. Louis, MO; five grandchildren: Seth, James, Jacob, Morgan, and Beau, Jr.; a brother, John Lucas; a sister, Beth (Scott), nee Lucas, Adams of Collinsville; and many nieces and nephews that she loved very much.
Visitation will be held from 4 – 7 p.m. on Tuesday, September 19, 2023, and 9 - 10 a.m. on Wednesday, September 20, 2023, at Barry Wilson Funeral Home in Maryville, IL.
The funeral service will immediately follow the visitation at 10 a.m. on Wednesday, September 20, 2023, with Pat Kominsky officiating.
Burial will be at St. Peter and Paul Catholic Cemetery in Collinsville after the service.
Memorials may be made to St. Jude Children's Research Hospital and will be received at the visitation or can be mailed to Barry Wilson Funeral Home, 2800 N. Center Street, Maryville IL 62062.
Condolences may be expressed to the family at barrywilsonfuneralhome.com
Obit Provided By:
Barry Wilson Funeral Home & Cremation Services