Joseph Love
Maryville |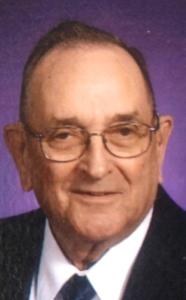 Joseph "Joe" F. Love, age 93, of Maryville, IL, passed away on Saturday, October 14, 2023 at his home. Joe was born on May 29, 1930 in Danville, KY, a son of the late Samuel and Sarah (Hardwick) Love.
Joe will be remembered as a loving husband, father, brother, grandfather, great-grandfather, great-great-grandfather, uncle and friend. On May 30, 1951, Joe married Elouise Wilson, the love of his life, and Elouise passed away on September 8, 2017. Joe was a faithful member of Calvary Baptist Church in Edwardsville, IL. He retired as a boilermaker from Nooter Corporation in St. Louis, MO, after many years of dedicated service. Joe was a talented woodworker who enjoyed working with his hands. His greatest joy was going to church and spending time with his family. He will be sadly missed by all who knew and loved him.
In addition to his parents, and wife, Joe was preceded in death by a daughter, Glenda Kleine; grandson, Kenneth Shane Taylor; and by his siblings, Charles Love, Clarence Love, Dorothy Thomas, Josephine Roysdon, Mary Norfleet and Ruth Love.
He is survived by his loving children, Joseph (Marsha) Love II of Edwardsville, IL, Kathy Love of Charleston, SC, Missi (Greg) Lane of Maryville, IL and Chaplain Steven (Connie) Love of Columbus, GA; son-in-law, Bill Kleine of Troy, IL; proud grandfather to Jennifer, Leah, Sarah, Brad, Laura, Amy, Bill, Scott, Jay, John, Nathan, Lydia and Abigail; eighteen great-grandchildren; one great-great-grandchild; many nieces, nephews, extended family and friends.
Visitation will be held from 4:00 p.m. until 8:00 p.m. on Friday, October 20, 2023 and from 9:00 a.m. until 10:00 a.m. on Saturday, October 21, 2023 at Calvary Baptist Church, Edwardsville, IL.
In celebration of his life, a funeral service will be held at 10:00 a.m. on Saturday, October 21, 2023 at Calvary Baptist Church, Edwardsville, IL, with Dr. Rob Schneider officiating. Joe will be laid to rest next to Elouise at Lake View Memorial Gardens, Fairview Heights, IL.
Memorial donations may be given to Calvary Baptist Church, Edwardsville, IL. Donations will be accepted at the church.
Condolences may be expressed to the family online at www.irwinchapel.com.
Obit Provided By:
Irwin Chapel Funeral Home