Joe Bill Van Hooser
Jerseyville | Sunday, January 16 2022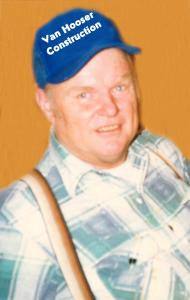 Joe Bill Van Hooser, 86, died at 2:16 p.m., Sunday, January 16, 2022, at Jersey Community Hospital in Jerseyville.
He was born on November 1, 1935, in Whitwell, Tennesee, and was the son of the late Ernest and Lucille (Pennington) Van Hooser.
Joe's family relocated to Cahokia, Illinois when he was a teenager. He married the former Hazel Gaugh in 1954 and together they were the parents of 7 children. Joe later remarried Patsy Brown on April 15, 1983, and shortly after the couple settled in Jerseyville. Patsy preceded him in death on November 29, 1998.
Never one to shy away from a hard day's work, Joe was a self-employed contractor, owning and operating Van Hooser Construction for over 25 years.
An avid outdoorsman, Joe enjoyed camping and fishing with his special fishing buddies, Alan and Joseph.
Surviving are six children, Sandy (Bob) Cobillas of Fairview Heights, Illinois, Ernest Van Hooser of Jerseyville, Donna Marshall of Jerseyville, Linda (Terry) Konkel of Belleville, Jodi (Steve) Herbstritt of Belleville, and David Van Hooser of Jerseyville; his step-children, Cathy West of Jerseyville, Joann West of Carrollton, Randy Crull of Carrollton, David Crull of Jerseyville and Rita (Richard) Baumgartner of Jerseyville; thirteen grandchildren; 11 great-grandchildren; two sisters, Pat Senf of Waterloo and Ruth (Ron) Whalen of Cuba, Missouri; as well as a brother, Don Van Hooser of Meadowbrook.
In addition to his parents and his wife, he was preceded in death by a daughter, Cathy Van Hooser; two grandchildren, Sean Herbstritt and Nicole Konkel; a step-son, Alan Crull; as well as four siblings, Barbara Posey, Louis Van Hooser, Betty Ballard, and Elizabeth Eckert.
Visitation will be held from 9:30 a.m. until the time of funeral services at 11:30 a.m., Saturday, January 22, 2022, at Crawford Funeral Home.
Burial will follow at Eldred Memorial Gardens in Eldred.
Memories may be shared with the family by visiting www.crawfordfunerals.com
Obit Provided By:
Crawford Funeral Home