Jodie Herrington
East Alton | Saturday, April 29 2023 |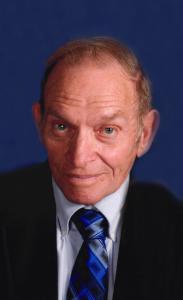 Jodie Onnie "Joe" Herrington, 88, died at 2:26 a.m., Saturday, April 29, 2023 at Barnes-Jewish Hospital in Saint Louis, Missouri.
He was born on March 22, 1935 in West Frankfort, Illinois and was the son of the late Odas Crawford and Dovie Lee (Galloway) Herrington.
Joe resided in the Chicagoland area for many years, where he was employed with General Mills as a Line Operator and Safety Representative, retiring in 1999 after 39 years of service to the company.
He married the former Anna (Bick) Thornton on September 30, 1982 in Geneva, Illinois and together they have been blessed with many wonderful memories throughout their 40 years of marriage.
Following Joe's retirement from General Mills, He and Anna relocated to Jerseyville, where they resided for many years. They later moved to Bethalto and ultimately settlings in East Alton, where they have remained for the past six years.
Joe was a people person, and enjoyed socializing with family and friends, alike. He treasured the friendships he made at Daylight Donuts, as well as the Calvary Life Church in Granite City.
He also enjoyed following wrestling and was talented wood worker, creating many custom pieces throughout the years.
Surviving are his wife, Anna Herrington of East Alton; three sons and a daughter in-law, Rex Herrington of Wisconsin, Richard Herrington of Montgomery, Illinois and Roger (Carol) Herrington of Sandwich, Illinois; a daughter, Barbara McKinney of Wisconsin; a step daughter and son in-law, Yvonne (Ted) Davidson of Aurora, Illinois; three step sons and a daughter in-law, Fargo (Monica) Thornton of Florida, Kelly Thornton of Plainfield, Illinois and Kirk Thornton of Jacksonville; several grandchildren; as well as a brother and sister in-law, Clifford (Angie) Herrington of Colorado.
Visitation will be held on Thursday, May 4, 2023 from 4 to 7 p.m. at Calvary Life Church, 4650 Maryville Road, Granite City, IL 62040.
Visitation will continue from 10 a.m. until time of funeral services at 12 p.m., Friday, May 5, 2023 at Crawford Funeral Home, 1308 State Highway 109, Jerseyville, IL 62052.
Burial will follow at Noble Cemetery in Otterville.
Memories may be shared with the family by visiting www.crawfordfunerals.com.
Obit Provided By:
Crawford Funeral Home