Jim F. Eisenreich
Godfrey | Saturday, May 23 2015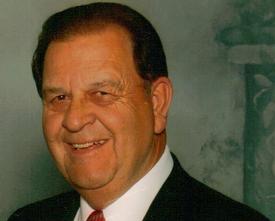 Jim F. Eisenreich, 79, a resident of Godfrey, went to be with our Lord, at 6:56 am Friday, May 23, 2015. He passed away peacefully at Alton Memorial Hospital, after a heroic battle with cancer, with his family by his side.
He was born on January 21, 1936 in Alton, the son of William F. and Elizabeth (Whittleman) Eisenreich.
He married Linda Ursch on August 31, 1957 at St. Matthew's Church. She survives.
Jim attended Alton Public Schools and played football, baseball and basketball, graduating in January 1954 from Alton High School. He received a full Athletic Football Scholarship to Toledo University. He later (1959) graduated with a marketing degree from SIUC. He worked at Owens Illinois Glass, Olin Brass and retired as Marketing Director for the USA/Canada from KME Kabelmetal, Osnabrueck, Germany. Prior to his retirement in January 2001, Kabelmetal produced the first 5 Euro coins used by various European Nations and replaced the copper roof of the Brandenburg Gate, separating the entry to communist Germany in Berlin. Jim was an avid sports fan, he enjoyed Cardinal baseball, Rams football, and collegiate basketball. After retiring, he enjoyed playing golf with his golfing buddies and working at Rolling Hills Golf Course and spending time with his children and grandchildren. He played fast pitch softball for Domino's and the Alton Chiefs in his earlier years. It was during this period that he became interested in football and basketball officiating. He spent 24 years officiating in the Alton and Chicago areas in the Southwest, Des Plaines and Catholic Leagues. He always said "Where else can you get a free night out, get a front row seat and get paid to do it?" Jim was a member of St. Peter and Paul Catholic Church, Alton Wood River Sportsman Club, and the Alton Moose Lodge. His life revolved around the love for his family.
In addition to his wife, he is survived by his children; Jami (Randall) Flaws of Burr, Ridge, IL, Lee Ann Eisenreich of Richmond, VA, Steve (Pamela) Eisenreich of Fenton, MO; seven grandchildren that were the joy of his life; Aubree, Scott and Mackenzie Flaws, Brianna and Alexandra Shumway, Nicolette and Lindsey Eisenreich; a brother and sister-in-law, Gary and Sally Eisenreich of Chatham, NJ; a sister and brother in law, Connie and Al Burns of Bluffton, NC; a sister in law, Nina Eisenreich, of Sacramento, CA; a stepmother, Dolores Burnett of Alton; sisters-in-law, Carol Sawyer, Marjorie Miller and Isabel Ursch; and brother-in-law Patrick Sawyer; several nieces and nephews, cousins and many dear friends.
In addition to his parents, he is preceded in death by a sister, Mary Beth Wilson and a brother, Robert Eisenreich.
Visitation will be from 4 to 8 pm Monday, June 1, 2015 at Elias, Kallal & Schaaf Funeral Home in Godfrey.
A Funeral Mass will be at 11 am Tuesday, June 2, 2015 at Saints Peter and Paul Catholic Church in Alton.
Burial will follow at Upper Alton Cemetery.
Memorials may be made to Saints Peter and Paul Catholic Church, Marquette Catholic High School Athletic Dept., or the American Cancer Society.
Elias, Kallal and Schaaf Funeral Home in Godfrey is in charge of arrangements.
Obit Provided By:
Elias, Kallal & Schaaf Funeral Home