Jess Pickel
Grafton | Saturday, October 15 2022 |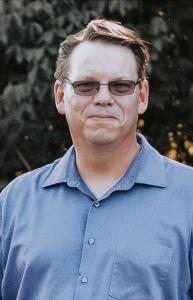 Jess Raymond Pickel, 49, died at 2:00 p.m., Saturday, October 15, 2022, at OSF St. Anthony's Hospital in Alton, following a three-month valiant battle with lung cancer.
He was born on October 14, 1973, in Alton and was the son of Jacob W. and Diana J. (Taylor) Pickel. Jess grew up in Jersey County and graduated with the Class of 1992 from Jersey Community High School.
He was employed for nineteen years as a Chemical Operator with Sensient Technologies in Saint Louis, Missouri, and had been employed for the past three years as a Driver with FTS Delivery, until his diagnosis in July.
He married the former Stacey Warren on December 11, 1998, at Victory Baptist Church in Jerseyville, and albeit far too short, their twenty-three years of marriage were blessed with many wonderful memories together raising their seven boys.
Jess lived his life centered around two simple, yet profound, beliefs: Faith and commitment to his family.
He was an active and devout member of First Baptist Church in Brighton, where he enjoyed singing and showcasing his talents with various musical instruments. He worked tirelessly to provide the best possible life for his children and enjoyed every moment spent with his boys – whether it be hunting or assisting them with their landscaping business. Some of his best times were spent behind the grill or smoker while having everyone together and just soaking it all in.
Surviving is his wife, Stacey Pickel, and their seven children – Cody, Darin, Cameron, Derek, Caleb, Dakota, and Callen; his father and step-mother, Jake and Ida May Pickel of Jerseyville; a sister, Tammy Laslie of Jerseyville; three brothers and their spouses, Tim and Lori Pickel of Edwardsville, Jason Pickel of Alton and Brad and Michelle Pickel of Jerseyville; two step-brothers and their spouses, Richard and Brenda Anderson of Jerseyville and Brian and Patty Anderson of St. Louis, Missouri; his father-in-law and mother-in-law, Bill and Cathy Warren of Carrollton; a sister-in-law and brother-in-law, Jennifer and John Fontenot of Benton, Arkansas; a brother-in-law and sister-in-law, Jeremy and Stephanie Warren of Jerseyville; Bob Woolsey of Jerseyville, who was like a second father to Jess; along with a host of nieces, nephews, and extended family members.
He was preceded in death by his mother, Diana Pickel; paternal grandparents, Jacob and Mabel Pickel Sr.; maternal grandparents, Walter and Cora Maude Taylor Sr.; grandparents-in-law, Phyllis Ganz and Morris Warren Sr.; as well as a brother-in-law, John Laslie.
Visitation will be held from 4-7 p.m., Friday, October 21, 2022, at Crawford Funeral Home in Jerseyville, where funeral services will be conducted at 10 a.m., Saturday with Rev. Don Letson officiating.
Burial will follow at Oak Grove Cemetery in Jerseyville.
In lieu of flowers or plants, memorials may be given to the family, in the care of the funeral home.
Memories may be shared with the family by visiting www.crawfordfunerals.com
Obit Provided By:
Crawford Funeral Home