Jerome (Jerry) Emmanuel Smith
Jerseyville | Thursday, December 31 2015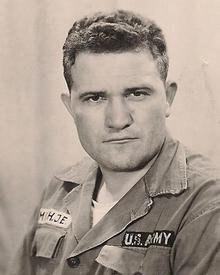 Jerome (Jerry) Emmanuel Smith passed away at 12:03 a.m. Thursday, December 31, 2015 at Jerseyville Manor.
Born Apr. 6, 1928 in Alton, he was a son of Oscar D. Smith and Rose (Swan) Smith Bond. Wallace Bond was his stepfather.
He married Calla M. Wilson Baumeister Jan. 14, 1961 in Wood River. She passed away May 30, 2003.
Jerome served in U.S. Army, January, 1949 – May,1958. He served two tours of duty in the Korean War, in the 7th Infantry. He was stationed in Japan and Europe, where he was in the Military Police. Jerome was the undefeated 1953 Welterweight Boxing Champion, 1st Calvary Division, Japan, and later served as coach for the Fitzsimmons Army Hospital boxing team in Denver, CO. He also was the coach of the first boxing team of Braconne Ordnance Depot in France. He served as coach of the Bussac and Base Boxing Team, winning the Base and COM Z Championships in France.
After leaving the army, Jerome worked for 30 years at Laclede Steel, retiring in 1990.
Jerome was a member of the Evangelical United Methodist church in Wood River for many years, and his interests were his family, his church, and music.
He is survived by one daughter, Lila (Wilson) Rives of Bethalto; 4 granddaughters, April and Stacy Wozniak of Berwyn, IL, Dawn and Jamie Payne of Rosewood Heights, Shawn and James Depper of Bethalto, and Shannon Webb of Bethalto; 2 step-grandchildren, Tim Roustio of Wood River and Dana and Dale Weston of Roxana; 13 great-grandchildren, Savannah Wozniak, Jon, Ashley and Amanda Payne, Ryan and Richie Johnson, Cassandra Depper, Joshua and Brandon Webb, Trent, Tanner and Jessica Weston, Aaron Dennison; 10 great-great grandchildren; and many nieces and nephews.
In addition to his parents, stepfather, and his wife, Calla, he was preceded in death by an infant daughter, Jerry Jean Smith; a daughter and son-in-law, Lily M. (Wilson) and Terry L. Roustio; a grandson, Terry A. Webb; and 3 brothers, William, James and Paul Smith.
Visitation will be Saturday, Jan. 2 at Paynic Home for Funerals from 10 a.m. until services begin at 12 p.m.
Burial will follow at Rose Lawn Memory Gardens in Bethalto.
In lieu of flowers, memorials may be made to St. John's Community Care Adult Day Program,222 Goethe Avenue, Collinsville, IL 62234
Online guestbook is available at www.paynicfh.com
Obit Provided By:
Paynic Home for Funerals