Jennifer Puckett
Kane | Tuesday, August 17 2021 |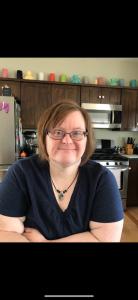 Jennifer A. Puckett, 51, of Kane died on Tuesday evening August 17, 2021 at Jersey Community Hospital in Jerseyville.
Born in Wood River on Nov. 18, 1969, she was the daughter of the late Robert "Bob" and Carol Jean Edmiaston Puckett.
Surviving are her siblings: Janet (Mike) Fortin of Kane, John Puckett of Alton, Aunt Faye Edmiaston of Bethalto, Uncle Mike and Aunt Nancy Edmiaston of Bethalto. Many cousins and countless friends also survive.
Jennifer was a kind, endearing soul. She worked at Illinois Economic Development in Jerseyville. Jennifer loved to eat out, color pictures, and go shopping. She was loved for her "Bossiness". She loved everyone and showed it every day. She never met a stranger.
Visitation will be from 9 a.m.-12 p.m. on Saturday August 21, 2021 at the Airsman-Hires Funeral Home in Carrollton. Graveside rites will be held at Dayton Cemetery south of Eldred following visitation. Memorials may be made to American Diabetes Assn., Special Olympics, or Alzheimers Foundation.
Condolences may be left online at: www.airsman-hires.com.
Obit Provided By:
Airsman Hires Funeral Home