Henry H. Groshans
Godfrey | Saturday, October 25 2014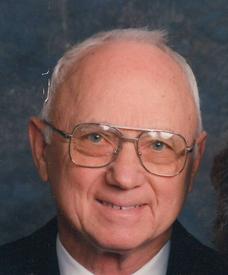 Henry H. Groshans, son of Robert and Charlotte (Heafner) Groshans, passed away on Saturday, October 25, 2014, at 2:50 in the afternoon. He was born on December 22, 1919, in Godfrey. On June 5, 1946, in Grafton, Illinois, he married Cecilia Wendle. She survives. Upon graduation from Alton High School in 1938, he worked at Horn's Grocery on Henry Street. When World War II broke out, he joined the army. He was a radar operator on a B24 heavy bomber in the South Pacific.
After WWII, he and Cecilia moved to Chicago. There he graduated from the American Television Institute of Technology in electrical engineering. He then began working at McDonnell Aircraft Corporation, later known as McDonnell-Douglas, in 1951. He retired from there in December of 1984 as Project Manager of Engineering for the Harpoon Missile Project. During his time at McDonnell-Douglas, he also worked on a prototype for the space shuttles that are now used extensively in the space program.
Henry had many talents and hobbies, one of which was woodworking. He prided himself on building the kitchen cabinets in his and Cecilia's home. He also lovingly built dollhouses, for his granddaughters. A favorite pastime, besides working crossword puzzles, was tending to his yard and planting rare and unusual bushes and trees. He loved to display the Pride Award that he received each year.
He and Cecilia were the proud parents of six children: Patricia (Daniel) Clasby, Effingham, Illinois; Marilyn Jean (Edward) Pusczek, St. Charles, Missouri; Edward (Rhonda) Groshans, Godfrey, Illinois; Michael (Aimee) Groshans, Tucson, Arizona; Brenda (Edward) Manning, Pewaukee, Wisconsin; and Vickie (Tyrone) Mitchell, Libertyville, Illinois. He also leaves behind nineteen grandchildren: Daniel, Ryan, Christopher, and Caroline Clasby, and Julie Osborn; Anne Vines and Ted and Michael Pusczek; John, Andrew, and Matthew Groshans; Patrick, Kristine, Nicolas, and Bryan Manning; and Troy, Niya, Teague, and Cole Mitchell. He also has eleven great grandchildren. He was preceded in death by his parents; one sister, Dorothy (Owen) Middlecoff; and two brothers, Leon (Jean) and Robert Groshans.
He was a loving husband, father, grandfather and great grandfather who will be sorely missed by all his family and those who had the pleasure of knowing him.
Visitation will be from 4 to 8 pm Tuesday, October 28, 2014, at Staten-Fine Funeral Home in Alton.
A Mass of Christian Burial will be held at 10:30 am Wednesday, October 29, 2014, at St. Ambrose Catholic Church in Godfrey with Fr. Steve Pohlman officiating.
Burial will follow at St. Patrick's Catholic Cemetery in Godfrey.
Memorials may be made to the Salvation Army.
Online condolences and guest book may be found at www.staten-fine.com
Obit Provided By:
Staten, Fine & Burke Funeral Home