Henrietta Ruth "Maggie" Heitzman
Dow | Wednesday, April 14 2010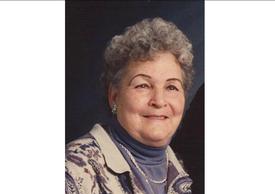 Henrietta Ruth "Maggie" Heitzman, 82, died at 12:41 p.m., Wednesday, April 14, 2010 at St. Anthony's Hospital in Alton after a brief battle with lung cancer.


She was born in Alton on Dec. 21, 1927, one of nine children born to the late Henry & Anita (Atkins) Bock.


She was raised in the Alton/Delhi area, and married Joseph Edward Heitzman on Feb. 24, 1945 in Alton. During their 63 year marriage they were the parents of eleven children; three girls and eight boys. Maggie was a hard worker and devoted mother, helping out in every way possible for her children including assisting her husband Joe with Khoury League when his work took him away from his passion of baseball. She was a Democratic precinct committee person for Mississippi Township, and was a custodian at the AT&T building in Dow, and had served as a bartender for numerous establishments, including Carl & Jesses in Dow.


Suriving are a daughter & son in law, Betty & Clayton Hall of Godfrey; eight sons & daughters in law, Joseph & Susan Heitzman, Fred Heitzman, John & Sandy Heitzman, Russell Heitzman, and Danny Heitzman all of Dow; Matthew & Tina Heitzman, and Mark & Jeanne Heitzman all of Jerseyville, and Thomas & Kathy Heitzman of St. Peters, Mo.; 18 Grandchildren; 22 Great Grandchildren; two brothers, William Bock of Alton, and Glen Bock of Brighton; four sisters, Betty Fitzgibbons of Delhi, Alice Dunham of Godfrey,


Joanne Hall of Brighton, and Peggy Hart of Carlinville.


She was preceded in death by her husband, Joseph Heitzman on Dec. 25, 2008; two daughters, Henrietta "Penny" Hart on March 19, 2004 and Sherry Trask on April 15, 2005; and two brothers, Lamar Bock and Charles Bock.


Visitation will be from 4 to 8 p.m. Monday at Crawford Funeral Home in Jerseyville, where funeral services will be conducted at 10 a.m. Tuesday. Fred Summers will officiate.


Burial will take place at the Newbern Cemetery in Dow.


Memorials may be given to the family in care of the funeral home.
Obit Provided By:
Crawford Funeral Home