Helen Flowers
Carrollton | Wednesday, August 30 2023 |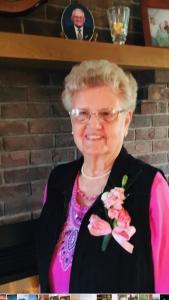 Helen V. Flowers, age 94, of Carrollton, Il. died Wednesday morning (August 30, 2023) at Boyd Memorial Hospital in Carrollton, Il.
She was born October 7, 1928 in Carrollton, Il. daughter of the late Roy and Florence Beckman Rhoades.
She married Clarence Evans, Sr. who preceded her in death on February 23, 1983. She later married Harry D. Flowers, Sr. on August 17, 1984 and he survives.
Also surviving are their children, Virginia L. "Tunie" Brannan (Michael) of Eldred, Il., Clarence "Junior" Evans (Cathy) and Roy "Butch" Evans (Janice) all of Carrollton, Il., Marsha Flowers (Lorraine) of Frederick, Md., Becky Howard (Chris), "JR" Harry Flowers, Jr. (Gena), and Cindy Howard all of Carrollton, Il., and Kirby Flowers (Georgi) of Edwardsville, Il.; grandchildren, Amy Struble, Linda Evans, Joe, Jake, Josh and Jon Evans, Dean Evans, Misty Borrowman , Megan Becker, Tim Brannan, Kery Jo Baumgartner, Joe Howard, Angela Nguyen, Katie Dudley, Nichole Flowers, Chad Flowers, Toby Howard, Jenny Arnett, Cory Howard, Leah Flowers, Krista Flowers, and Brett Flowers; forty-two great-grandchildren; and several nieces and nephews.
She was preceded in death by her parents; her first husband; sisters, Mary Hacker, Rosie Flowers, and Norma Busey; and brothers, Roy "Sam" Rhoades and Franklin "Bud" Rhoades.
Helen worked at Greene County Farm Bureau and later, Columbiana Seed Company, and CNB Bank (formerly Greene County Natl Bank). She was a member of Our Redeemer Lutheran Church, Mt. Gilead Club, and Greene Co. Home Extension.
Funeral services will be held 11 a.m. Wednesday (September 6, 2023) at Airsman-Hires Funeral Home in Carrollton, Il. Burial will be in Eldred Memorial Gardens in Eldred, Il. Visitation will be held from 5 p.m. to 7 p.m. Tuesday at the funeral home. Memorials may be made to Our Redeemer Church and sent to Airsman-Hires Funeral Home, 5th St. Carrollton, Il. 62016. Condolences may be sent to the family online at www.airsman-hires.com.
Obit Provided By:
Airsman Hires Funeral Home