Harry J. Gallatin
Edwardsville | Wednesday, October 7 2015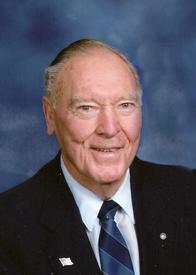 Harry J. Gallatin, age 88, of Edwardsville, Illinois died Wednesday, October 7, 2015, at Eden Village Care Center in Glen Carbon.
A Wood River-Roxana native, Harry "The Horse" Gallatin was a seven-time NBA All-Star and a professional and college basketball coach. Gallatin was the NBA's original "Iron Man", playing 610 consecutive regular season games for the Knicks in nine seasons from 1948 to 1957, a record that stands today. His final season was with the Detroit Pistons. In 1954, Gallatin led the NBA in rebounding and still ranks fourth on the Knicks' all-time rebound list. His cumulative total of 746 consecutive career games established him as one of NBA's most durable players.
He was inducted into the Naismith Memorial Basketball Hall of Fame in 1991. Also a member of the SIUE Athletics Hall of Fame, the Truman State University Athletics Hall of Fame, the Missouri Basketball Hall of Fame, the Illinois Basketball Hall of Fame, the Mid-America Intercollegiate Athletics Association (MIAA) Hall of Fame, the NAIA Hall of Fame, and the SIU Salukis Hall of Fame, Gallatin garnered honors throughout his retirement. Most recently, in May he was recognized at Madison Square Garden with a floor tile in the Garden's "Walk of Fame" for outstanding achievements in the history of the Garden.
Gallatin graduated from Roxana High School in 1944 and served in the U.S. Navy until the end of WWII. He received a bachelor's degree from Truman State University in 1948 and a Master's degree from the University of Iowa in 1954. Harry was born April 26, 1927, in Wood River, Illinois. the son of the late Harry & Cecile (Hartman) Gallatin.
Following his playing career, Gallatin moved to the coaching ranks as the head coach of the SIU Salukis in Carbondale from 1958-1962. Gallatin returned to the professional ranks in 1962, coaching the St. Louis Hawks from 1962-1965 where he was awarded the first NBA Coach of the Year Award. He returned to New York in 1965 where he coached the New York Knicks during the 1965-1966 season.
In 1967 he began teaching and coaching basketball at SIU Edwardsville and became the first Athletics Director at Southern Illinois University at Edwardsville. In 1973, Gallatin became SIUE's men's golf coach, leading the team to 18 NCAA Division II Championship appearances and producing multiple All-Americans. The 1983 men's golf team was inducted into the Athletics Hall of Fame in 2011. He retired from SIUE in 1992.
On September 25, 1949, in Burlington, Iowa, Gallatin married Beverly A. Hull, his college sweetheart. The couple recently celebrated their 66th wedding anniversary. He is survived by his wife and three sons, Steven (Barbara) Gallatin of Edwardsville, James (Suzanne) Gallatin of Highland, and William (Terri) Gallatin of St. George, Utah; 8 grandchildren, Aaron and Stacey Gallatin, Jeremy (Christina) Gallatin, Emily (Adam) Geerts, Benjamin Gallatin, Amanda Gallatin (Aaron Hughes), Ross Gallatin and Erik Gallatin; 6 great grandchildren, Nathan Satterfield, Zachary Kofrin, Abigail and Matthew Gallatin, and Ava and Griffin Geerts; one sister, Eileen Palmer of Longwood, Florida and one brother-in-law, Luverne Hull of Des Moines, Iowa.
Gallatin was an active member of the Edwardsville community in retirement. He was a member of the First Presbyterian Church in Edwardsville, past President and member of the Edwardsville Rotary Club, and a member of the Board of Directors of the First Cloverleaf Bank. He and Beverly were long time members of Sunset Hills Country Club.
Visitation will be from 3 to 8 p.m. Friday, October 9, 2015, at Weber & Rodney Funeral Home in Edwardsville. Services will be at 11 a.m. Saturday, October 10, 2015, at the First Presbyterian Church in Edwardsville with Rev. Joy Myers officiating. Internment will be at Sunset Hills Memorial Estates in Glen Carbon. Memorials may be donated to the Harry Gallatin Golf Training Facility at Southern Illinois University Edwardsville or First Presbyterian Church of Edwardsville. Condolences may be expressed online at weberfuneralhome.com.
Obit Provided By:
Weber & Rodney Funeral Home