Gregory Brannan
Eldred | Sunday, September 10 2023 |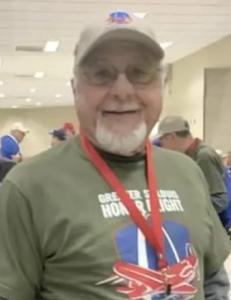 Gregory Thomas "Fuzzy" Brannan, 71, of Eldred passed away suddenly at home on Sunday, September 10, 2023 . He was born April 20, 1952 in Carrollton the son of James T. and Eva Lou Oettle Brannan. He married his best friend, Penny McGlasson on June 7, 1975 at the Eldred Baptist Church and she survives.
He is also survived by his children, Adam (Amanda) Brannan of Eldred and Ashley (Josh) Ackles of Jerseyville; 4 grandchildren, Madeline Jo and Cash James Brannan and Ruby and Cadence Ackles; his mother, Eva Lou Cleveland of Carrollton; his brother, Dan (Cheryl) Brannan of Gillette, WY; his sister, Jerri Lou Camerer of Carrollton; nieces nephews, Coty Camerer, Colby (Maura) Camerer, Dylan Brannan, Kenzie Brannan, Gage Cates, Steve (Brandy) Barnett, Bob Barnett, Matthew McGlasson and Christian McGlasson; sister-in-law, Sue Barnett; brothers-in-law, Mark and Alan McGlasson; mother-in-law, Bonnie McGlasson; aunt, Betty Brannan and uncle, Clifford Gangwish. He was preceded in death by his father, James T. Brannan; his grandparents, Kenneth and Opal Brannan and Ralph and Ruby Oettle; aunt, Francy Gangwish, uncle, Max Brannan; brothers-in-law, Tom Camerer and Charles Barnett; step-father, Leo Cleveland; father-in-law, Robert McGlasson; sister-in-law, Gloria McGlasson and nephew, Bryan McGlasson.
Fuzzy retired from the United States Postal Service in 2018, where he was a rural carrier for Eldred and Calhoun County. Through the Postal Service he was awarded the million-mile accident-free award and received special recognition for getting the mail to Calhoun County during the Flood of 1993. He served in the United States Army during the Vietnam War. He was honored to have participated in the 100th Veteran Honor Flight. He was a Charter member of the Eldred American Legion. He loved his grandchildren with all his heart and enjoyed riding his golf cart, farming, happy hour at the Chicken Shack and just visiting with friends or strangers. He mowed to live and lived to mow and was a fixer of anything.
A memorial service will be held at 10:00 a.m. on Monday, September 18, 2023 at Airsman-Hires Funeral Home in Carrollton with burial at Eldred Memorial Gardens. The family will meet friends from 1:00-4:00 p.m. on Sunday at the funeral home. In lieu of flowers, memorials are suggested to the Eldred American Legion Auxiliary or 5A's Animal Rescue in Alton. Condolences may be left online at www.airsman-hires.com.
Obit Provided By:
Airsman Hires Funeral Home