Greg Exton
Roxana | Tuesday, February 1 2022 |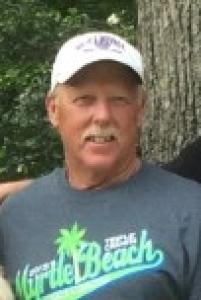 Greg Eugene Exton, 66, passed away at 12:27 p.m. Tuesday, February 1, 2022, at River Crossing of Alton.
Born June 26, 1955, in Wood River, he was a son of Worthy Darrell Exton, III, and JoAnn (Volk) Puent of Wood River.
He married Angeline Dinah Early-Exton on June 17, 2000, at Emmaus Lutheran Church in Dorsey. She's still kickin'.
Greg worked as a carpenter, first for his father's business Exton Construction for 20 years, and then for Carpenter's Local # 664 for another 23 years. He loved the game of softball. Greg managed and played for the Sun Devils, Aces, and PhoneMasters. He also coached girls' softball for the Black Widows, Alton Flames, and the Highland High School girls' teams. He played rugby for many years with the Stallions and Royals. Greg loved talking sports and fishing.
In addition to his wife and mother, he is survived by a daughter, Madison Exton of Holiday Shores; three stepsons, John (Colleen) Blaylock of Pontoon Beach, Matthew (Kasey) Blaylock of Alton, and Andrew (Courtney) Blaylock of Glendale, MO; grandchildren, Kane, Seth, and Elijah Blaylock, Karson Fowler, and Esme, Rylie, Sophie, and Roscoe Blaylock; two brothers, Glenn (Ella) Exton of Highland and Gary (Erin) Exton of Alton; many extended family and friends.
He was preceded in death by his father and his sister, Pamela Exton.
The family will hold memorial services at a later date.
An online guestbook is available at www.paynicfh.com
Obit Provided By:
Paynic Home for Funerals