Glenn Otis "Buck" Darr, Jr.
Alton | Wednesday, November 30 2022 |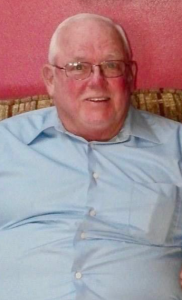 Glenn Otis "Buck" Darr, Jr, 76, passed away on November 30, 2022 in Jerseyville. He was born on December 27, 1945 in Alton to Glenn Otis & Mildred Anna (Kessler) Darr. Glenn "Buck" married Marjorie Katherine Austin on December 15, 1966 in Alton. He was a machinist at Olin and was a driver at William-Nobbe. He was also a member of the Church of the Nazarene in Godfrey. Buck is survived by his wife: Marjorie Katherine Darr; his children: Anthony Neil (Sarah) Darr and Amie L. Stemm; his grandchildren: Jacob Stemm, Joseph Stemm, Jessica (Michael) Tanney, Johnathan Stemm, Mara Yocius, Kyle Yocius, Samuel O. Stemm, Elijah Darr, Matilda Darr, and Noah Stemm; his 6 great grandchildren; and his siblings: Delby (Suzanne) Darr, William (Lisa) Darr, and Greg (Barb) Darr. He is preceded in death by his parents and brother: Aaron Lee Darr. A visitation will be held on Sunday, December 4, 2022 from 12:00 (noon) – 3:00 pm at Alexander Funeral Home. A visitation will follow on December 5, 2022 starting at 10:00 am and funeral service will then start at 11:00 am at Alexander Funeral Home. Rev. Greg Brennen will officiate the service. In lieu of flowers, memorials may be made to the Church of the Nazarene in Godfrey.
Obit Provided By:
Alexander Funeral Home